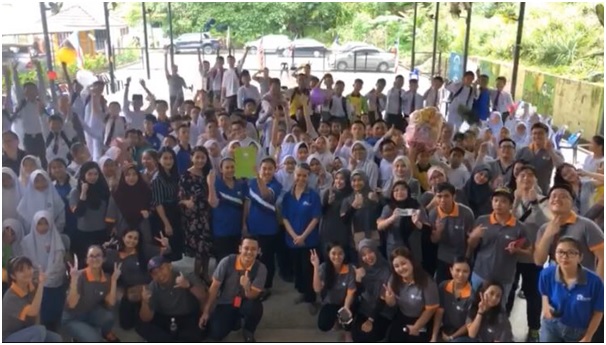 Since English has been given the status as the "Second Official Language" in Malaysian school curriculum, thus the language must be taught effectively in all schools so that Malaysian who have undergone the national education system are able to communicate in the language (Asmah, 1981).

SIDMA College Sabah shares the concern about the poor grasp of English among students in Malaysian primary and secondary schools, and constantly follow and appreciate the various initiatives implemented by Ministry of Education (MoE) to ensure that Malaysian students excel further to become globally competitive, as stated in the Malaysia Education Blueprint (MEB 2015 – 2025).
However much has to be said about the poor grasp of the language among students in Malaysian primary and secondary schools students More often than not, the low level of English language proficiency is associated with teachers' ability and competency to teach the subject. According to Associate Professor Dr Hanifa Hassan; Chairperson of the Language Academy, University Technology Malaysia's (UiTM) Faculty of Social Sciences and Humanities; it is important for teachers to note that teaching is not stagnant, but dynamic, and has resulted in multiple perspective in the teaching and learning of English as a second language.
"Fundamentally, Bahasa Malaysia is accepted to unite the culturally multilingual society of the Malaysians; on the other hand, English language has a functional role because of its use as an international language of communication in the economy, thus, demonstrating its pervasive influence through its role in the education system. Language has to be communicated for learners to achieve competency; therefore, it is pertinent for Malaysian English language learners to overcome language anxiety so as to enable them to participate actively and meaningfully in language classes and be competent in the English language."(Darmi, R., & Albion, P., 2013)

On 13th of September 2019, SIDMA College UNITAR Sabah Final year students taking Bachelor of Education (mainly those majoring in English), organized a Highly Immersive Programme (HIP) for 140 Form 1 students of SMK Taman Tun Fuad, Kota Kinabalu. The event was part of SIDMA's initiatives to complement and supplement MoE's on-going and existing programmes to improve the standard of English amongst Malaysian students.
Nester Duncan, English-majoring final year Education student, President of the HIP, together with 38 other final year Education students, and being assisted by a team of English lecturers namely: Miss Audrey Gee, Mr Bryan Oliver Cabalce, Miss Rachell Maycy and Miss Florence Ajadap who acted as the advisory committee: together organized a fun-based activities for the 140 students to immerse fully in English. All the 38 members acted as facilitators to implement the activities. The HIP comprises of 10 stations with 10 different games for the students. The games created was aimed on increasing the students' speaking proficiency as requested by the teachers. Here, Nester Duncan and his team designed games that will require students to communicate with one another as they progress from one station to the other.
Nester Duncan, through his welcoming address, among other things, motivated the students to communicate freely in English without hesitation with their friends as well as the facilitators throughout the activities. He hoped that through such initiative, students are empowered to communicate to their friends using English, and hopefully able to cultivate their interest to use English in their daily communication.
The HIP was themed the "Game of Thrones" in which the students were divided into groups and the group that managed to complete the most stations will be able to win the throne. The students were first divided into 10 groups and they were sent to their respective stations. Upon the completion of their task at the station, they were then given a secret word. After they have completed the task, the students then moved to the next station. There was a total of 10 stations and a total of 10 secret words in which students need to gather all of it in order to be able to create a story at the end. The students were then told to present their story. The winner will be chosen based on the creativity of the story and the tasks that they have managed to complete earlier on.
In his closing speech, Nester also thanked SMK Taman Tun Fuad for giving SIDMA College the opportunity to communicate to its students. Madam Nancy from SMK Taman Tun Fuad was thrilled with the programme that was held by the SIDMA students and expresses her gratitude to the rest of the team. According to her the students, were having so much fun and they even converse with each other in English. The principal, Mr Kassim bin Wiro, apologized for not being able to join the closing ceremony but expressed his welcome and gratitude towards the team from SIDMA College for their effort to help the students.
Prof Dr Morni Kambrie, SIDMA Chairman and Founder, who was in away for another official event, congratulated Nester Duncan and all the final year students for the successful implementation of the event. He hoped the students should be ever willing to use the knowledge and skills learn to assist students to empower their learning and thus able to excel in the future.
For more information on how SIDMA College can improve your competitiveness in tertiary study in Foundation Programme, Diploma, Degree or Master's Level, you are encouraged to apply online by visiting SIDMA College Website or to call our hotline number 088-732 000 or 088-732 020, or through fax @ 088-732 015 or 088-732 019. Potential students are welcomed to visit us at SIDMA College UNIRAZAK Sabah, Jalan Bundusan, 88300 KOTA KINABALU.
By,
Audrey Gee,Teo Eng Seng and Zain Azrai, 
SIDMA College Sabah, 
88300 KOTA KINABALU.