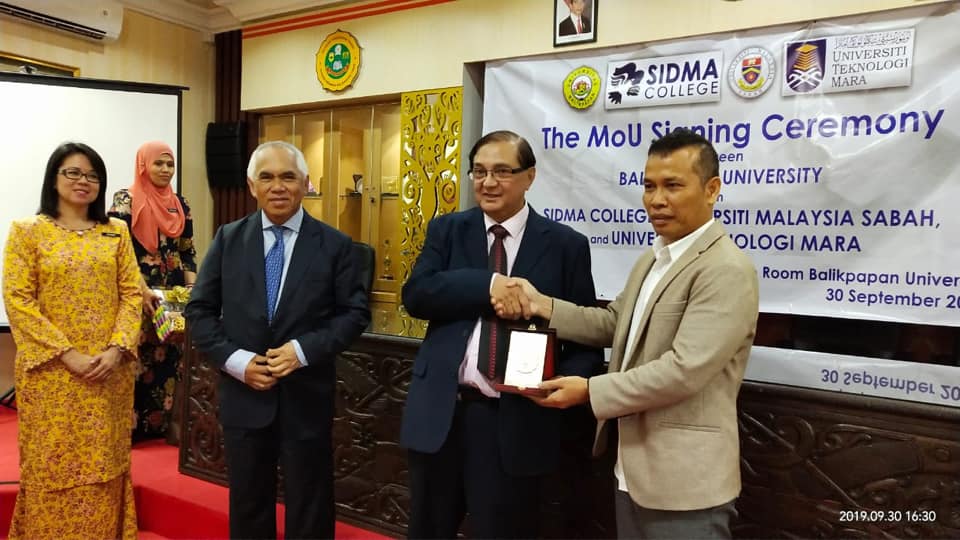 Assoc. Prof Dr Morni Hj Kambrie, Chairman and Founder of SIDMA College, accompanied YB Datuk Dr Yusuf Bin Yacob, Sabah's Minister of Education and Innovation to an official visit and to sign an MOU with Universitas Balikpapan (Uniba) East Kalimantan, Indonesia on 30 September 2019.   
Apart from Prof Dr Morni, other members of the delegate that accompanied Datuk Dr Yusuf are Prof Datuk Dr Taufiq Yap Yun Hin (Vice Chancellor, University Malaysia Sabah), Datuk Seri Panglima Wong Khen Thau (President of the Association of Sabah Private Higher Learning Education Institutions), Associate Prof. Dr Hj Abdul Kadir Hj Rosline (Rector of UiTM Kota Kinabalu Campus), Mdm. Teo Geck Choo (Permanent Secretary of Ministry of Education and Innovation, Sabah), Mr Rapahi Bin Edris (Political Secretary, Ministry of Education and Innovation, Sabah) and Mdm. Musleha Khairunisa Binti Muluk (Assistance Secretary, Office of the Deputy of  Sabah State Secretary (Administration)).
Assoc. Prof Dr Morni Hj Kambrie was honoured to sign a Memorandum of Understanding (MoU) on behalf of SIDMA College with the Rector of Uniba, Dr Piatur Pangaribuan, AMd, SH, MH, CLA, at the Uniba Conference Room. Among those who witnessed the MOU signing ceremony was the Sabah delegate. The MoU among other highlighted on the mutual cooperation relating to the improvement of the quality of tertiary education through exchange of academic and non-academic staff and students, collaboration on joint research projects, coordination of joint educational projects as well as organization of joint student development co curriculum activities.
Earlier, prior to the arrival of YB Datuk Dr Yusuf and the other delegates from Sabah, Prof Dr Morni Hj Kambrie, accompanied by Ir. Rahmat S. T., Dean of Fakultas Sipil dan Perencanaan (FTSP), conducted a Public Lecture for FTSP students of Uniba on the topic "Reviving the Motivation!"
The signing of the MoU was part of the program under the Sabah's Chief Minister Datuk Seri Mohd Shafie Apdal's first official visit to Kalimantan where it had shown positive signs on economic cooperation, tourism and education relations with the government in the region. Datuk Seri Mohd Shafie during the meeting with East Kalimantan Governor Isran Noor had discussed the development of East Kalimantan and the Capital Development Plan in the area.
SIDMA College UNIRAZAK Sabah, under Prof Dr Morni as its chairman and founder, prides itself in being the first private institution of higher learning in Sabah, offering various accredited courses ranging from Foundation Studies, Diploma Programmes, Bachelor Degrees and Masters Programmes.
Some of SIDMA College UNIRAZAK Sabah courses offering for the November 2019 Intake is as follows:
Master of Business Administration.

Bachelor of Education (Hons)

Bachelor of Early Childhood Education (Hons)

Bachelor of English (Hons)

Bachelor of Management (Hons)

Diploma in Early Childhood Education

Diploma on Occupational Safety and Health
SIDMA College UNIRAZAK Sabah November 2019 Intake of new students is now in progress. SPM/STPM/Diploma/Degree holders are warmly welcomed to visit the college located at Jalan Bundusan, 88300 Kota Kinabalu for more information and registration.
Application can also be done online through this link @http://bit.ly/UNIRAZAKSABAH or Whatsapp @ https://urdaftar1.wasap.my/. Interested candidates can also call SIDMA Hotlines @ 088-732 000 or 088-732 020.
By,
Teo Eng Seng and Zain Azrai, 
SIDMA College Sabah, 
88300 KOTA KINABALU.