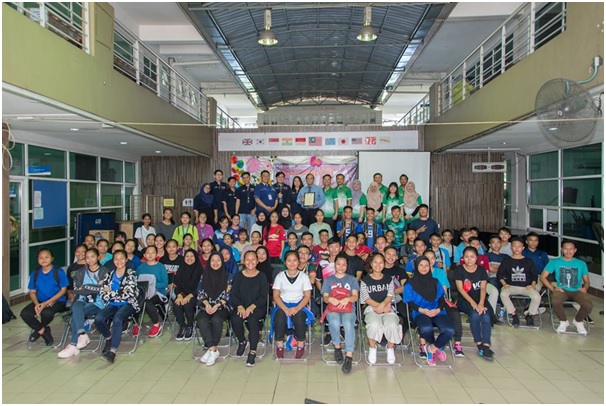 Despite having a tight education tour schedule for the 78 Form Four SMK Pitas II students who have been so excited to have a peep at SIDMA College Sabah, managed to pay a short visit to the campus on 13 November 2019. Earlier the students were given the opportunity to organise a two days study tour to Kota Kinabalu; visiting institutions of higher learning, places of educational interest, zoo and more.
In his welcoming speech, Prof Dr Morni Hj Kambrie, Chairman and Founder of the SIDMA College, sincerely thanked the students for picking SIDMA College Sabah as one of their destination during this short study tour. He shared to the students that SIDMA College are offering various programs of studies ranging from Foundation Studies, Diploma, Bachelor and Masters Programs; in various discipline such Early Childhood Education, Occupational Safety and Health, Education, Management, Finance and more. Dr Morni sincerely welcomed SPM / STPM school leavers to continue their study here.
Dr Morni, who has develop deep concern for Malaysian young students', advised them to always be on track with their school work, understand, share and support the concerned teachers, and their school to ensure the success in their studies. He reminded them that their key responsibilities as students is to pay full attention to their teachers during classes, listening and following their advice; as well as advice from parents, grandparents and relatives; and more importantly, willing to work extra hard in their studies to achieve excellence in their studies. While in school, he reminded them to seize opportunities available and develop their full potentials: talents, skills, values and intellectual in order to help them in solving the most difficult problem they might encounter if future.
He advised these students to find out which field of studies that they are interested in and seek advices from their respective school counsellor, in order to determine and prepare themselves for excellent career that will match well with their academic studies. He too advised these students to make good use of financial assistance such scholarship, study loan (PTPTN), etc. provided by the government to finance their tertiary education.
Earlier upon their arrival, the students lead by their school teachers were welcomed by Mr Terence B. Stephens (Head, Students Affairs Department), officers from the Corporate Marketing and Business Development, as well as the Students Representative Council (SRC).
Various motivational talks, fun-based activities, singing and more were exchanged during their short stay. SMK Pitas II students were being introduced and briefed on SIDMA College background, its basic facilities available such as the library and resource centre, IT Laboratory, Gymnasium, lectures and tutorial rooms, and others.
The SMK Pitas II students were also invited to visit and participate in the on-going Early Childhood Education and Entrepreneurship week from 7 – 15 November 2019. Various booths promoting various local home-made delicacies such as assorted cookies, preserved fruits, food and fruit juice; local arts and crafts and more were displayed for sales. 
The guests were later invited to have their lunch at Mus Kitchen Restaurant prior to continuing the tour the next destination.
SIDMA College collaborating with Universiti Tun Abdul Razak (UNIRAZAK) Kuala Lumpur, under the dynamic leadership of Prof Morni Hj Kambrie and Madam Azizah Khalid Merican (CEO) prides itself as being the first private institution of higher learning in Sabah, offering various accredited and affordable courses ranging from Foundation Studies, Diploma Programmes, Bachelor Degrees and Masters Programme such as:
Master of Management

Master of Business Administration (MBA)

Bachelor of Education (Hons)

Bachelor of Early Childhood Education (Hons)

Bachelor of English (Hons)

Diploma in Early Childhood Education

Diploma in Management

Diploma in Occupational Safety and Health.
SIDMA College UNIRAZAK Sabah November 2019 Intake of new students is now in progress. SPM/STPM Diploma school leavers are warmly welcomed to visit the College, located at Jalan Bundusan, 88300 KOTA KINABALU for more information and registration. For enquiries, please call SIDMA Hotlines: 088-732 000 or 088-732 020 or you may contact via Whatsapp  013-865 4877

By Teo Eng Seng and Zain Azrai,
SIDMA College Sabah,
88300 KOTA KINABALU.