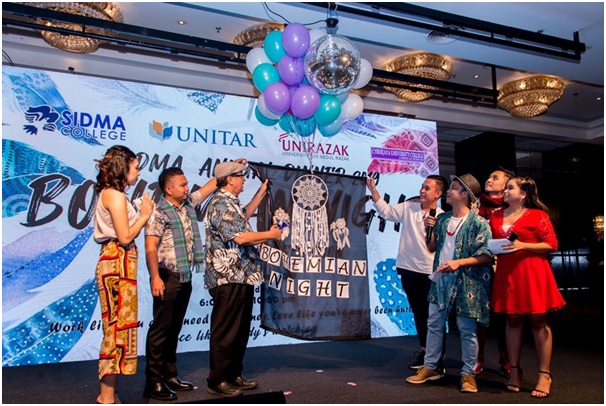 Over 300 students and staff of SIDMA College Sabah attended SIDMA College Annual Dinner 2019 at Ming Garden Hotel & Residences on 14 November 2019. The event was jointly organised by Student Affairs Department (STAD), Student Representative Council (SRC) with the full cooperation and collaboration from the various faculties and departments of the college. Since the establishment of SIDMA College Sabah, its annual dinner, has always been a sell-out event, participated by both the senior and junior students apart from the staff.
Adopting the iconic theme, "Bohemian Night" the event provided opportunities for the students and staff of the college to spent their evening together, immersed in a completely relax celebration atmosphere, listening to SIDMA Idols finalists showcasing their vocal talent and creative movement, and more throughout the evening.
The 2019 Annual Dinner was more extraordinary and meaningful than usual as it was an evening of continuous dinner, lucky draw, music performances and common shared happy time together. Annual Dinner 2019 Project Director, Miss Fifie Andrea Roslan @ Richard, a semester 5 Bachelor of Education student, thanked Prof Dr Morni Hj Kambrie (Chairman and Founder), Madam Azizah Khalid Merican (CEO), Mr Terence B Stephen (Manager, STAD), Mr Coster Baragang (Head, SRC), lecturers and staff of the college for their continuous support, patience, guidance, cooperation and interventions to ensure the successful implementation of the event.
Prof Dr Morni in his officiating address congratulated STAD and SRC, particularly Mr Terence and Miss Fifie for the smooth running of the event. Dr Morni noted that the organising of such event has progressed from year to year despite the fact that every year, a new SRC committee took over to run the show. Thus, he added that SIDMA Annual Dinner is another of SIDMA's signature event and without fail every single year hundreds of staff and students are looking forward to attend this annual event, strengthening their networking, taking photos with lecturers, friends and colleagues, and enjoying the good food plus its luxurious evening environment, as another of their wonderful memorable experience.
Dr Morni took the opportunity to convey his appreciation to all the staff and students for their hardworking efforts. He was impressed by the ways they are leading team members and delegating tasks and are very helpful in keeping this college running efficiently; subscribing to the core values and principles of the college.
SIDMA Annual Dinner aims to acknowledge the efforts, accomplishments and success of both the staff of the college. Among the categories of awards were: Best Students Award and Best Club Award.
Best Students Award
Shirley Chu – Diploma in Early Childhood Education

Nur Alib Bin Hariyono – Bachelor of Business Administration (Hons)

Adwina Chin Lee Ling – Bachelor of Management (Hons)

Deborah Clare Funk Tze Set – Bachelor of Early Childhood (Hons)

Seanarrentcxa Sabinus – Bachelor of Education (Hons)

Donald Benjamin – Bachelor of Hospitality (Hons)

Mohd Azmi Bin Mohd Jaafar – Bachelor of Administration (Hons)

Quelin Sialid - Bachelor of Management (Hons)
 Best Club Award
Netball Club

GAMSIS

Unified Christian Fellowship (UCF)
 MASISWA Achievement Award (for their excellent achievement during the MASISWA 2019 Annual Event)
Volleyball Women Team (Gold medal)

Futsal Women Team (Gold medal)

Netball Team (Gold medal)

Badminton Male (Double) – Bronze medal

Badminton Male (single) – Gold Medal
 MASISWA Networking Game Award (staff).
Sepak Takraw Team (Gold)

Volleyball Female Team – (Bronze)
Five Semi Finalists of the "SIDMA Idol 2019" were given the opportunity to showcase their singing talent to win the title "SIDMA Idol 2019" during the evening. The contest ended with Norini Michael being awarded as "SIDMA Idol 2019". Meanwhile, Nur Syazwana Binti Mohd Daim was declared the first runner-up, and Mohd Shahmudin bin Sabardin was the second runner-up. The third and fourth runner-up was taken by Lionel Lasius and Ummi Syibrah Afifah Binti Ismail respectively.
Various exclusive performances by SIDMA Prima Dansa, SIDMA live band performances, the selection of "Best Dress" categories Male, Female, staff and students; as well as fabulous lucky draws with spectacular prizes contributed much to the relaxed and informal atmosphere for the participants to socialise unreservedly.
Mr Shannon Pang Kuan Hing and Ms Rachell Maycy M Mojolou were announced the winner of "Best Dress" for the staff category; and Jessie Deon James and Loizendra Lu Xin Shen were declared as the "Best Dress" for the student category.
Thank you to everyone for making SIDMA College Annual Diner 2019 an eventful and a memorable night.

By Teo Eng Seng and Zain Azrai,
SIDMA College Sabah,
88300 KOTA KINABALU