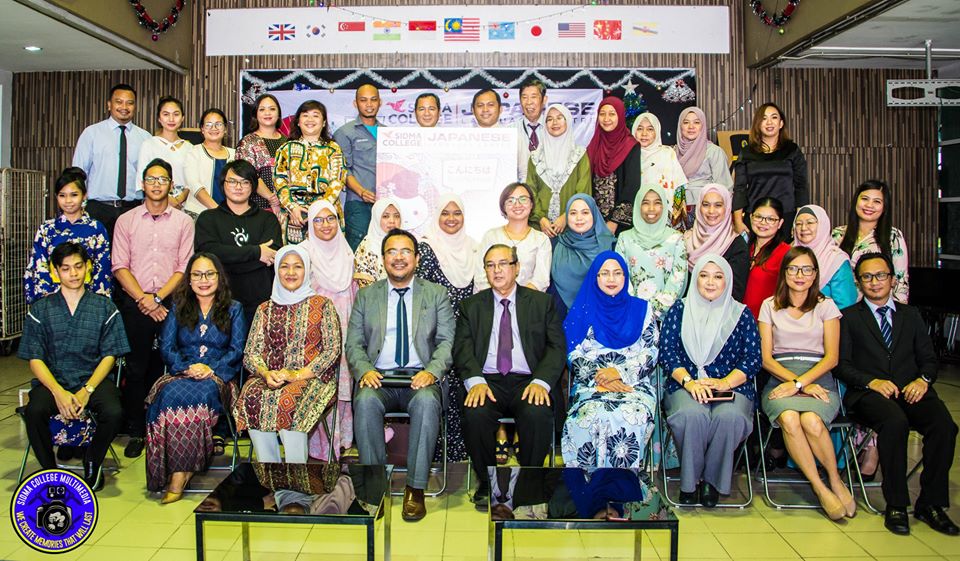 SIDMA College Sabah launched its Centre for Japanese Language on Friday, 13th December 2019. The event was officiated by Dr Mohd Rozi Ismail, Vice President of the Japan International Cooperation Agency Alumni Society of Malaysia (MyJICA)
Dr. Mohd Rozi was invited specially for the event by Dr. Morni Kambrie, the Founder and Chairman of SIDMA College. Also present during the event were local Language activist Datuk Dr. Tarsiah Taman, entrepreneur Mary Jim, as well as students and staff of SIDMA College. The centre currently has a total of 24 students who are taking up Japanese Language course, some of which are planning to prepare themselves for the JPLT or Japanese Proficiency Language Test to prepare them for job employment in Japan.
In his welcoming speech, Dr. Morni stressed that the main purpose of the centre is to enable local graduates, especially graduates from SIDMA College and UNIRAZAK to venture and work overseas, specifically Japan, because, he said, Japan has an ageing population and the country needs several hundred thousands foreign workers over the next few years.
Dr Mohd Rozi Ismail in his speech, congratulated Prof Dr Morni Hj Kambrie for initiating the establishment of the Japanese Language Centre. This, he said, is in accordance with the Malaysian Education Blueprint 2015-2025 (Higher Education) that encourage students in the higher education to learn at least one global language apart from being proficient in Bahasa Malaysia and English.
By having the skill to communicate in foreign languages creates an individual with higher demand in the global marketplace, thus enabling the learner of the language the ability to learn new knowledge, to build rapport in the international business world; and subsequently be successful in their future careers.
Malaysia's Minister of Education, Dr Maszlee Malik, in his speech at World Language Day 2018 in Selangor recently emphasised that his Ministry are committed to have Malaysians students in higher education that can master a third or even fourth language, including Arabic.
Dr Mohd Rozi added, 'Apart from learning to converse well in Japanese language to learn skills required to work in Japan, learning Japanese, or for that matter any other languages, makes one to be more culturally sensitive, alert and aware of one's culture. Other than that it also boosts one creativity, develop confidence, as well as can boost one's brain power'.
Dr Mohd Rozi, who studied at Daito Bunka University, Tokyo added that through JICA, he can complement the supply of additional learning and reading modules, journals, or other related articles that will benefits Japanese Language learners at SIDMA Japanese Language centre.
Prof Dr Morni Kambrie, thanked Dr Mohd Rozi for taking the time and effort to attend and subsequently launched SIDMA College Japanese Language Centre. Dr Morni added that he had known Dr Mohd Rozi for quiet sometime and has recently visited him while he was serving as Malaysian Education Ambassador in Beijing, China.
He added, 'The idea of introducing a foreign language in the college started in the early 1990's'. His initial idea was to establish a Korean Language Centre. However he couldn't materialise the yet but will look into future opportunities.
The Japanese Language Centre is headed by Mr Izzul Izuan Kok, who joined the college in the 2019 as coordinator and tutor for the Japanese Language programme.
Dr Morni added that the course will be conducted by native Japanese Language speakers. Currently, Dr Morni has people in Japan who will be appointed as Japanese Language tutors, once there are more students registered to study with the college.
The first batch of SIDMA College Japanese Language Class of 24 students began on 3rd December 2019. Currently the centre conducts preparatory course to enable potential candidates to obtain the immediate Japanese Language. The class is conducted twice a week, with a duration of four hours per day.
Upon the completion of the Japanese Language Preparatory Course for a minimum of 3 – 5 months, the students will then have to sit for the Japanese Language Proficiency Test (JLPT), to be conduct by an external syndicate. The students will need to obtain at least N4 Certificate to qualify to be interviewed by the employment agency and to apply for work permit to work in Japan.
Accordingly to Prof Dr Morni, he has met with Mr Yosihyuki Hagino and Mr Masayuki Matsuda from The World Company, Japan who recruit foreign workers for the Japanese market. They have been in constant contact with Dr Morni, interested about Sabahan who are attracted to work in Japan.
Aside from conducting Japanese Language Preparatory Course to work in Japan, the centre also will to conduct two other courses namely: the "Special Japanese Classes" and the "Public Japanese Classes".
The Fees charged are as follows:
Fee structure for Japanese Language Program:
Work in Japan - with 5 meetings per week of 5 hours per day: RM450/month with 5 months intensive lesson preparatory lesson for the JLPT N5 and N4 Examination.
Special Japanese Classes – with 3 meetings per week of 2 hours a day: RM250/month. Lesson will be conduct in a very small group.
Public Japanese Classes – with 2 meetings per week of 2 hours a day. RM 160/month. Open classes up to 10-15 students per class.
JPLT Examination – RM110.00 - RM150.00 as of 2019.
Other expenses: flight tickets to Japan, etc.
For more information on the Japanese class, please visit the SIDMA College at, Jalan Bundusan Kota Kinabalu. You may contact SIDMA College Hotlines at 088-732 000 or 088-732 020. Mr Mohd Izzul Izuan Kok (Tel: 088- 731 376) or Prof. Dr Morni at 013-810 4301.

By Jade Cassandra, Teo Eng Seng and Zain Azrai,
SIDMA College Sabah,
88300, KOTA KINABALU.