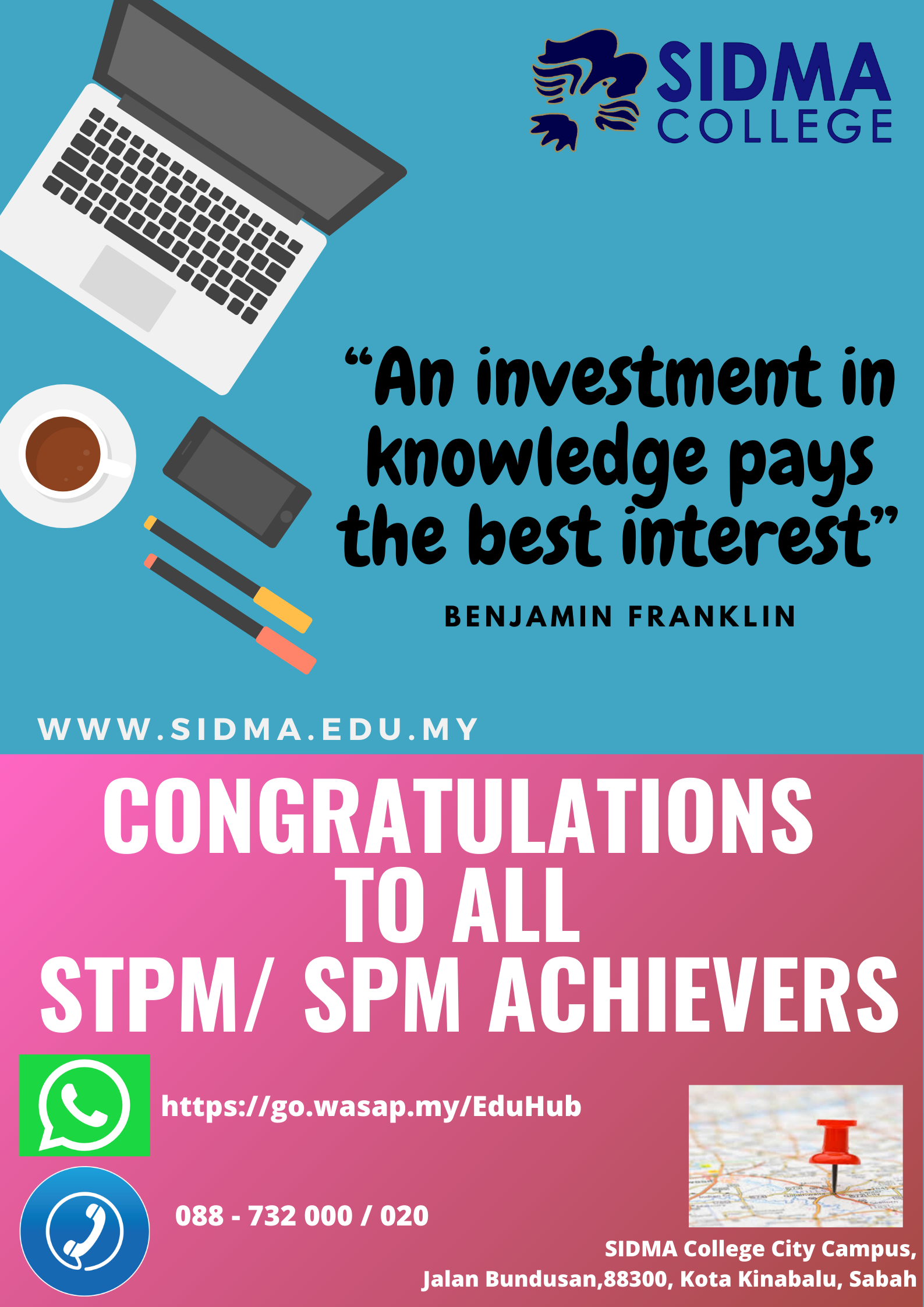 The result for the 2019 Sijil Pelajaran Malaysia (SPM) and Sijil Tinggi Persekolahan Malaysia (STPM) examinations has been released. Congratulations on passing your 2019 SPM or STPM Examinations. Excellence isn't a skill, it's rather an attitude. Keep up your good work and continue to strive for your future career!!! It's all out there! Put your future in good hands – your OWN and let your future starts with us at SIDMA College UNIRAZAK Sabah.
Prof Dr Morni Hj Kambrie (Chairman and Founder of SIDMA College UNIRAZAK Sabah) conveyed his heartiest congratulations to all the candidates who have received their SPM and STPM results, because they have done their best. "Congratulations on your achievements. We hope your hard work has really paid off well. Regardless of the results, what is important now is what you choose to do after this. Whatever your choice, you just have to do your best", he added when met.
He advised these students to look for better academic qualification in order to achieve their dreamt career after SPM/STPM. "It is a good strategy to continue your studies at university or college after SPM/STPM, as the sooner you earn your degree or diploma, the sooner you can enter the workforce and begin setting up life of your own", he added.
Do not delay your decision, you need to remember that "your future starts today!". Enrol for your studies at SIDMA College UNIRAZAK Sabah located at Jalan Bundusan, Kota Kinabalu.
SIDMA College has prosper jubilantly over the years, and rapidly emerged as the one of few colleges in Sabah offering degree courses; in addition to its home-grown diploma programmes. Its' technology and environment can support the ambitions and goals of students who want to create a brighter tomorrow. We at SIDMA College UNIRAZAK Sabah aim to more than just teaching; together we strive to be "Champions of Change" and change is what drives us ALL to SUCCESS.
List of Academic Programmes offered at SIDMA College UNIRAZAK Sabah for 2020 Academic Year are as follows:
Foundations in Arts and Social Science

Diploma Early Childhood Education

Diploma in Management

Diploma in Occupational Safety and Health

Bachelor in Management

Bachelor in Business Administration

Bachelor in Education

Bachelor in Early Childhood Education

Bachelor of English

Master in Management

Master of Business Administration (MBA)
Application to SIDMA College UNIRAZAK Sabah can be done online through the following link: https://apply.sidma.edu.my
SPM/STPM school leavers are also welcome to visit and register with SIDMA College Sabah located at Jalan Bundusan, Kota Kinabalu.
By Teo Eng Seng and Zain Azrai,
SIDMA College Sabah
88300, KOTA KINABALU.