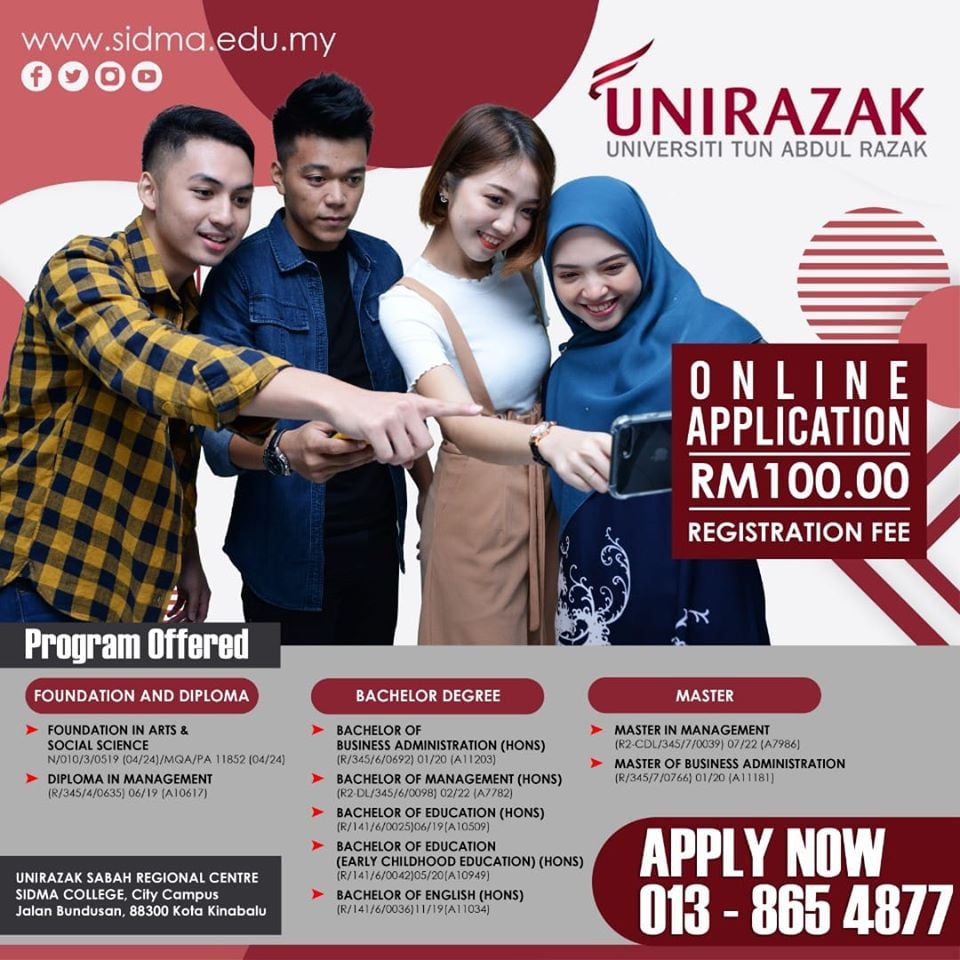 SIDMA College Sabah, located at Jalan Bundusan, Penampang, 88300 KOTA KINABALU, prides itself in being one of the few institutions of higher learning in Sabah, offering more than ten academic programmes, ranging from Foundation Studies to Master's Degree, in various field of studies such Education, Administration, Business and more. First established in Sarawak in 1998, the college which was formerly known as Institut Pengurusan Dinamik Seminar (IPDS) extended its operation to the "Land Below the Wind", Sabah in 2002. During its establishment in Kota Kinabalu, SIDMA had its first of 34 students in 2003. Over the years, the students' population rose close to around 2,000 registered and active students prior to the year 2020.
Under the charismatic leadership of Prof Dr Morni Hj Kambrie (Founder and Chairman), together with its dynamic team of managers and trusted Board of Directors, as well as its' close network with University Tun Abdul Razak (UNIRAZAK) and University of Cyberjaya; the college prospers jubilantly over the years and rapidly emerged as one of the local institution of higher learning in Sabah offering Foundation Studies, Diploma Studies, Bachelor Degree and Master Degree in various field of studies such as Education, Early Childhood Education, Management, Administration, as well as several of its own home grown academic programmes.
Aiming high towards achieving its great vision of being a renowned local college and producing competitive graduates possessing knowledge, value and skills needed for the 21st Century Workforce, the management of the college is constantly upgrading itself to ensure comprehensive quality control exist throughout its transformation stages from the input to ensure the delivery of quality educational outcome is accomplished.
Being equipped with the latest technical infrastructure, the college strives by adopting and focusing on blended teaching and learning, a hybrid teaching and learning model that combines the conventional face-to-face meetings with tutors and lecturers in the classrooms, and the internet-based support system which provide continuous interactions among students, tutors and lecturers nationwide; as well as ensuring students being immersed in conducive environments to understand and implement theories learned in the classrooms into real world work experience; during their interns (practicum), thus producing marketable workforce much needed for the 21st century.
Currently with the Covid-19 pandemic situation disrupting classes and activities of the college, the only option available for students to resume learning is to go online. This is not only to ensure the safety of students and staff, but also to ensure education continuity for students, especially during the current Movement Control Order (MCO) period and beyond (if need be). Luckily, as the college is already equipped with all the latest and secure system required to conduct classes, activities and etc, the entire college are adapting well to accommodate each and every single student to ensure that their studies will not be affected.
For your information, all courses offered received full accreditation from Malaysian Qualifications Agency (MQA), and thus courses offered here are similar to those offered at other universities (including in IPTA's) throughout Malaysia.
The following are Programmes of Studies offered at SIDMA College UNIRAZAK Sabah for the June/July 2020 intake of new students:
Foundation in Arts and Social Science,
Diploma in Management
Diploma Occupational Safety and Health (DOSH)
Diploma Early Childhood Education (DECE)
Bachelor in Management (Hons)
Bachelor in Business Administration (Hons)
Bachelor in Education (Hons) (majoring Bahasa Melayu; English & Literature; Bahasa KadazanDusun (coming soon), Mathematics; Economics, and Islamic Studies.
Bachelor in Early Childhood Education (Hons)
Bachelor of English (Hons)
Master of Management (weekends classes)
Master of Business Administration (MBA) (part time / weekends studies)
Interested applicants with years of working experience may also apply via APEL offered by UNIRAZAK.
REGISTRATION for June/July 2020 of new students for UNIRAZAK and SIDMA academic programmes is ONGOING. To register in person and meet with our Registration Team, do contact us so we can make the necessary arrangement and adhere to the SOP by calling/WhatsApp our Hotlines at 013 8106201 or 013 8654877
However, we highly recommend that you utilised our ONLINE Application by clicking on the following link @ https://go.wasap.my/EduHub.

By Teo Eng Seng and Zain Azrai,
SIDMA College UNIRAZAK Sabah,
KOTA KINABALU