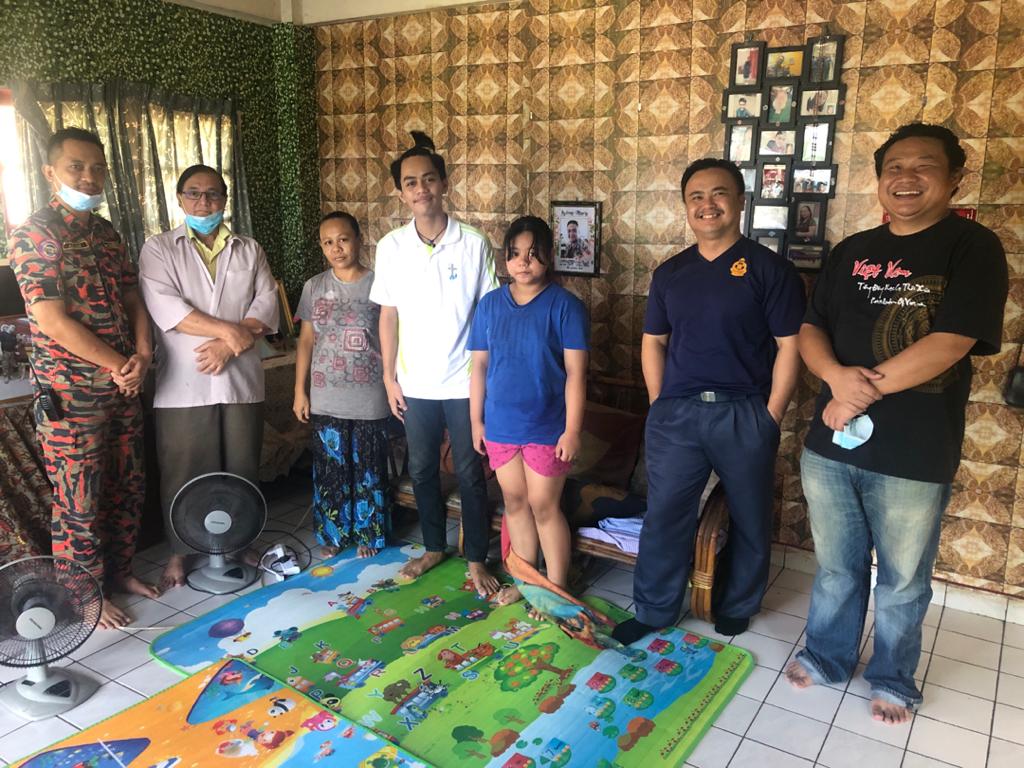 Prof Dr Morni Hj Kambrie, (chairman and founder of SIDMA College) upon being informed by his staff on the plight of widow Ruslinah Asoi for blood donations for her three thalassemia-stricken children via numerous platforms, including Facebook; immediately made a courtesy call to the family to convey SIDMA College concerns and sympathy, as well as to look for ways possible to assist the family. Dr Morni was accompanied by Mr Terence B Stephen (Student Affairs Department), Fire and Rescue Department of Penampang Officer Duty Officer, and other staff of the college. According to Pn. Ruslinah, three of her six children; namely Priscilla Agrace (20); Debbie Ashanty Lawrence (16), and Christyn Rachel (15) are thalassemia patients who are regularly in need of blood transfusions, at least twice a month.
Ruslinah, a housewife, recently lost her fireman husband, the late Lawrence Jeffrine Idang (48), is not only worried about getting continuous blood supply for her three children, but is also facing monetary difficulties to provide the basic necessities for herself and her family. Currently she has no income, and she is still sorting out matters with regards to her husband's death with the authorities, in the hope that his pension will be approved. However she realised that this would take some time as her husband only passed away for a month. The family also had to vacate their Fire and Rescue Department Quarters in Penampang by the end of the month and look for a new place for her children and herself.
Upon hearing Rusinah's plight, Prof Dr Morni immediately instructed his staff to arrange a special meeting. A special committee was formed, headed by Puan Soinim Musa and Puan Daria Joseph to look for ways to assist the family. Some of the immediate target will be to look for blood donors to assist the three thalassemia children; as well as collecting donation in cash for the immediate assistance to the family.
Meanwhile Dr Morni encouraged the general public to come forward and donate blood for the thalassemia children. Those who wish to donate blood under the children's name can do so at the Queen Elizabeth Hospital for Priscilla, and for the other two children at Children's Hospital in Likas. Ruslina can also be contacted at 016-587 1936 for more details.
Prof Dr Morni also took the opportunity to thank his staff, particularly Puan Soinim, Puan Gui Yic Sen, Mr Terence B. Stephen, Puan Daria Joseph and more for their concern and sympathy shown towards the Rusinah's family.
By Teo Eng Seng and Zain Azrai,
SIDMA College Sabah,
88300 KOTA KINABALU.