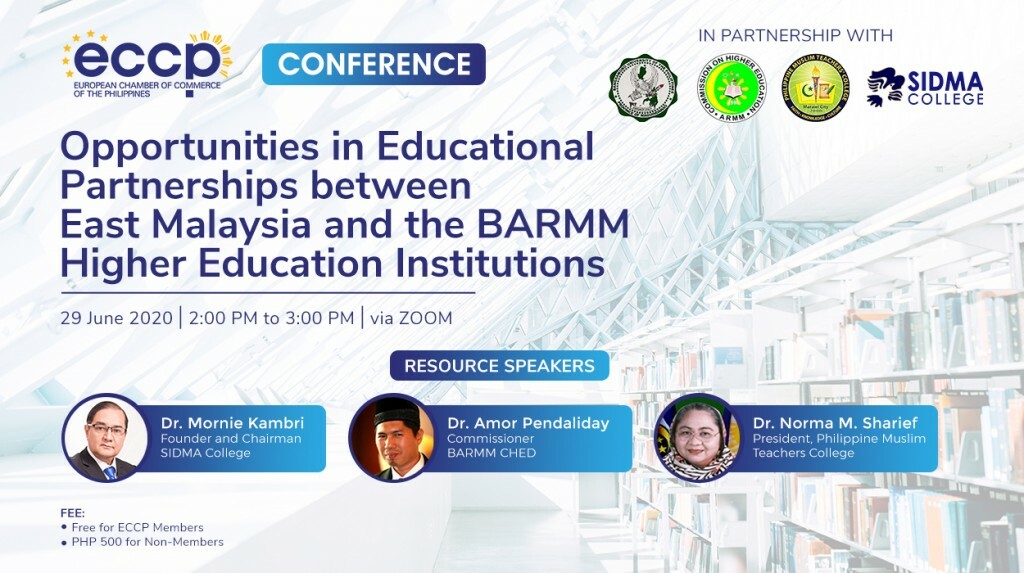 The ECCP (European Chamber of Commerce of the Philippines) is a bilateral foreign chamber that promotes European interests in the Philippines and vice versa. With more than 800 members from the community, the ECCP offers a strong business network that holds great potential in transforming it to tangible business opportunities. Thus it is indeed a unique organization that offers membership as well as professional business services to members and clients.
The ECCP identifies business opportunities, facilitate business contacts, and provides market intelligence research for European and Philippine companies alike. The ECCP keeps its members informed through its digital channels, publications and e-newsletters.
In line with New Normal after Covid-19; the ECCP, through its Southern Mindanao Business Council (ECCP-SMBC) recognizes the role of education in nation building and supports the plans of its members who engaged in education. The ECCP, in partnership with SIDMA College Sabah, CHED-ARMM, Bangsamoro University of the Southern Philippines and the Philippines Muslim Teachers' College collectively initiated webinar entitled "Opportunities in Educational Partnerships between East Malaysia and the BARMM Higher Education Institutions on June 29, 2020 conducted via Zoom.
During the session, Prof. Dr Morni Hj Kambri, Founder and Chairman of SIDMA College Sabah, shared with all the webinar's audience, on the academic programmes offered at the college. Currently SIDMA College Sabah collaborated with Universiti Tun Abdul Razak (UNIRAZAK), Kuala Lumpur and offers various academic programmes, dedicated in addressing the global capital needs of the 21st century. Courses include Foundation Studies, Diploma, Bachelor and Master programmes in diverse disciplines including business administration, management education, early childhood education and English. Other than its own home grown Diploma in Early Childhood Education; SIDMA College also signed Academic Collaborative Agreement with University of Cyberjaya (UoC) to conduct Diploma in Occupational Safety and Health (DOSH).
All programmes offered are affordable for the general public and are approved by the Malaysian's Higher Education Ministry (MOHE)
Apart from sharing the academic programmes offered by the college, Dr Morni also discussed about the opportunities for students exchange programmes, as well as staff exchange programmes to the universities and colleges in the BARMM area. Those interested to learn more about SIDMA College Sabah are welcome to forward their email to This email address is being protected from spambots. You need JavaScript enabled to view it.
The other speakers of the day were BARMM CHED Commissioner, Dr Amor Pendalilay and President of the Philippine Muslim Teachers' College, Dr Norma Sharief. Dr Norma Sharief that have also shared their academic programmes, student and staff exchange programmes with the universities and colleges in the BARMM area. Those are interested to learn more can send them an email via This email address is being protected from spambots. You need JavaScript enabled to view it..
More upcoming Webinar events are planned by ECCP to be held are as follows:
July 3 2020 (10.00 am to 12.00 pm.) – The ECCP Sandbox: Webinars on Innovation E-commerce: The Transformation of Retail.

July 6, 2020 (03.00 pm – 04.00 pm) – ECCP Talks with BOI: Investment Outlook and Opportunities in the "New Normal"
July 6, 2020 (19.30 am – 11.30 am) – Ready, Reset, Start: Life in the New Normal
July 7, 2020 (10.30 am – 11.45 am) – Rebooting your Business: Keeping your clients and employees safe.

July 7, 2020 (02.00 pm – 03.00 pm) – ECCP Talks with DOE Undersecretary Wimpy Fuentebella: The Now and Future of the Philippine Energy Sector.

July 8 & 9, 2020 (.01.30 – 4.30 pm) – Winning the Customer: Emotional Intelligence and Customer Service.
July 10, 2020 (4.00 pm – 5.00 pm) – Business Resumption & Total Safeguarding.

July 21, 22 & 23, 2020 (02.30 pm – 4.30 pm) – Risks Issues and Cisis Management.

By Teo Eng Seng and Zain Azrai
SIDMA College Sabah,
KOTA KINABALU.