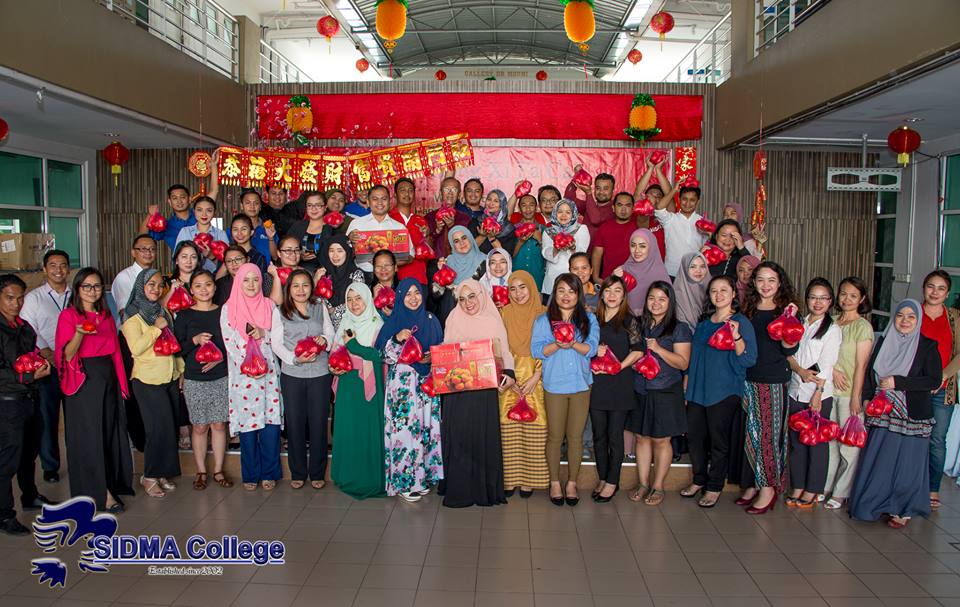 Chinese New Year, also known as Spring Festival, is the grandest and most important annual event for Chinese people. Based on the lunar calendar, the festival has no exact date and it changes each year, but it mostly falls on a day from January 21st to February 20th in Gregorian calendar. The lunar calendar also defines the 12-year repeating cycle of Chinese zodiac, and each year is named after an animal; and 2018 Chinese New Year which falls on 16th and 17th February 2018 is the "Year of the Dog".
In conjunction with the coming of this auspicious celebration, Dr Morni Hj Kambrie, Founder and Chairman of SIDMA College UNITAR, who has been very well-known for his generosity, caring and sharing of his gains with his employees, seized the opportunity to share the happiness to all his SIDMA employees celebrating Chinese New Year by distributing Chinese New Year Goodies to them.
The special event which was held at SIDMA College on 9th February 2018 was organised with the full collaboration of SIDMA Staff Welfare Association (PKKKSS) Committee members under the leadership of Mr. Zain Azrai Bin Mohd Noor. During the event, SIDMA College members celebrating Chinese New Year were invited to receive their special goodies in the form soft drinks, poultry, beef and Mandarin oranges. PKKKSS also took the opportunity to distribute Mandarin Oranges to all SIDMA College UNITAR Sabah staff to celebrate the upcoming Chinese New Year. Synonymous with Chinese New Year, the Mandarin oranges promises luck, prosperity, and a long life.
Madam Azizah Khalid Merican (CEO) who was given the honour to present the Chinese New Year Goodies to all SIDMA Sabah staff, took the opportunities to wish in advance Gong Xi Fa Cai to all the staff celebrating the auspicious event. She hope that the Chinese New Year (CNY) will bring more prosperity especially to SIDMA College and to its staffs.
Meanwhile all SIDMA staff who have received their CNY Goodies from Dr Morni conveyed thanks and cheers to Dr Morni and family, Madam Azizah Khalid Merican, PKKKSS, as well as to SIDMA Board of Management for their generosity shown to them, particularly during this special festive celebration. They believe that that they are very fortunate to have Dr Morni and his team of management who has been very caring and highly emphatic towards the needs of all his staff, particularly during festive seasons such as this. Dr Morni not only prioritises his staff welfare as one of his many goals, but also is a man with a great heart for people of all races and cultural backgrounds, who would continuously foster, preserve and propagate goodwill, harmony and unity through diversity in SIDMA College.
Meanwhile Dr Morni, Madam Azlina Ngatimin (Director, Corporate Marketing and Business Development), Madam Azizah Khalid Merican (CEO), and SIDMA Board of Management took the opportunity to wish all lecturers, staff, students, relatives and friends " Happy and Prosperous Chinese New Year 2018". "GONG XI FA CAI"
By Teo Eng Seng and Zain Azrai bin Mohd Noor,
SIDMA College UNITAR Sabah,
KOTA KINABALU.