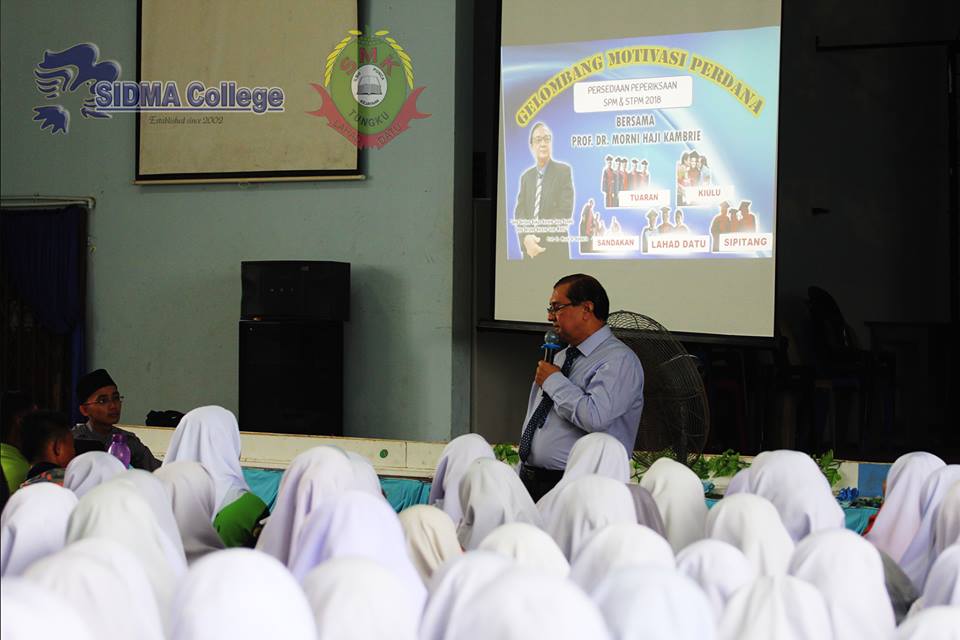 Dr Morni Hj Kambrie, Chairman and Founder of SIDMA College UNITAR Sabah recently collaborated with the Student Counselling Unit of SMK Tungku, Lahad Datu and presented his signature address "Gelombang Motivasi Perdana" for the benefit the Form 3, Form 5 and Form 6 (Upper Six) students of the school. Cikgu Murshida and Cikgu Anna Kamila, the school counsellors that took the initiative to organise the event on 04 April 2018 at SMK Tungku Lahad Datu school hall which was attended by more than 400 Form 3, Form 5 and Form 6 (Upper) students and teachers.
Dr Morni kicked off his lecture by congratulating and praising all the school teachers for their excellence service to the school and to the students. He told the students that they are very fortunate as their parents is willing to sacrifice themselves in order to allow them to be in school today. However he reminded the students that even the best teachers in the best school with the most supportive parents will not be able to unleash the excellence potential of the students to excel if the students themselves do not appreciate the efforts contributed by the teachers and parents.
He stressed that all students can achieve excellent result in their studies if they stay focus on the teachers' teaching while in class, respect and listen to their parents while at home, manage and put to good use on all the available resources and facilities provided to them during their studies. He urged the students to manage their own personal resources, particularly their precious time well; as any carelessness in terms of managing their own time will have a negative impact on their studies. He advised students to meet their school counsellors, should they faced any problem, particularly on their academic achievement.
He added that under normal circumstances, everyone can achieve excellence in education; and presented himself as a possible example the students could learn from because he too came from a poor family background. He mentioned that when he was in Primary 3, his family did not even have their own house and they have to stay at a house that belongs to his father's friend.
He advised students to dream big, as their hopes and dreams can be the key to understand of who they are, what they want; and even on how to reach their goals. Dr Morni also took the opportunity to continue sharing his own personal experience from being a "kampong" boy, selling cakes made by his mother every morning from house to house in his village; but by holding on to his precious dream of earning his Doctor of Philosophy (PhD), plus his strong personality of always aiming high, have brought him as to who he is today.
On examinations, Dr Morni asserted that examinations are the most wonderful thing in any human's life. Examination result are the litmus test of their abilities, strength and self-management. Students who are well prepared and confident will be ready to face it without any hesitation; however those who are scared of it might failed. Thus he advised students to prepare well in advance, and must never be scared of examinations. "Learn to like it, and when you like it, you will love to take any examination."
On what's next after their SPM / STPM, Dr Morni advised them to pursue their aspiration and maximise their potentials by furthering their tertiary education in their personal's field of interest that will lead them to the top of their dreamt career. He also shared various opportunities and options available for them to choose from; and advised them seek further explanation and consent from their parents and school counsellors. They can also consult SIDMA College's very own Student Counsellor, Ms Melissa Marcus Molijol (Tel:  088-732 000) for further explanation.
Dr Morni and his team from SIDMA's Corporate Marketing and Business Department were warmly welcome by the school representatives, the staff and the students. He conveyed his special thanks to the School Principal, the organising team and all the school staffs and parents for their strong support to ensure that their children can benefit from such activities. He too announced that he will be conducting similar talk at SMK Membakut II on 14 April 2018 and another one at SM St Peter, Membakut soon. Any schools interested to collaborate with Dr Morni to conduct his "Gelombang Motivasi Perdana" at their respective schools are most welcome to call SIDMA College Sabah at Tel: 088-732 000 or 088-732 020.
SIDMA College Sabah, since its establishment back in 2002 in Kota Kinabalu has prospered jubilantly over the years; and rapidly emerged as the first and largest regional centre in Malaysia running UNITAR programmes, in addition to its home-grown academic programmes. Its well-equipped infrastructure and technology can support the ambitions and goals of students who want to create a brighter tomorrow. Because of that, SIDMA College aim to do more than just teach, it strive to be the "Champions of Change" and change is what drives us ALL to success.
The following are the list of Academic Programmes offered at the college for its 2018/2019 Academic Year.
Foundation Courses:
Diploma Courses:

Diploma in Early Childhood Education Studies
Diploma in Occupational Safety and Health
Diploma in Management

Bachelor's Degree Courses:

Bachelor of Education (Hons)
Bachelor of Early Childhood Education (Hons)
Bachelor of Business Administration (Hons)
Bachelor of Management (Hons)

Masters Courses:

Masters of Business Administration (MBA)
Masters of Education (Educational Leadership and Management (ELM))
Masters of Education (Early Childhood Education)
Our June 2018 Intake for new students is now in progress. Various financial assistance are available. For more information about courses offered at SIDMA College, please browse SIDMA College Website, or like our Facebook Account – SIDMA College.
Students interested in pursuing their tertiary study with the college in Foundation Programme, Diploma, Degree or Master Level are encouraged to apply online by visiting SIDMA College Website or to call our hotline number 088-732 000 or 088-732 020, or through fax @ 088-732 015 or 088-732 019. Potential students are welcomed to visit us at SIDMA College UNITAR Sabah, Jalan Bundusan, 88300 KOTA KINABALU.
Teo Eng Seng and Zain Azrai Bin Mohd Noor,
SIDMA College Sabah,
KOTA KINABALU.