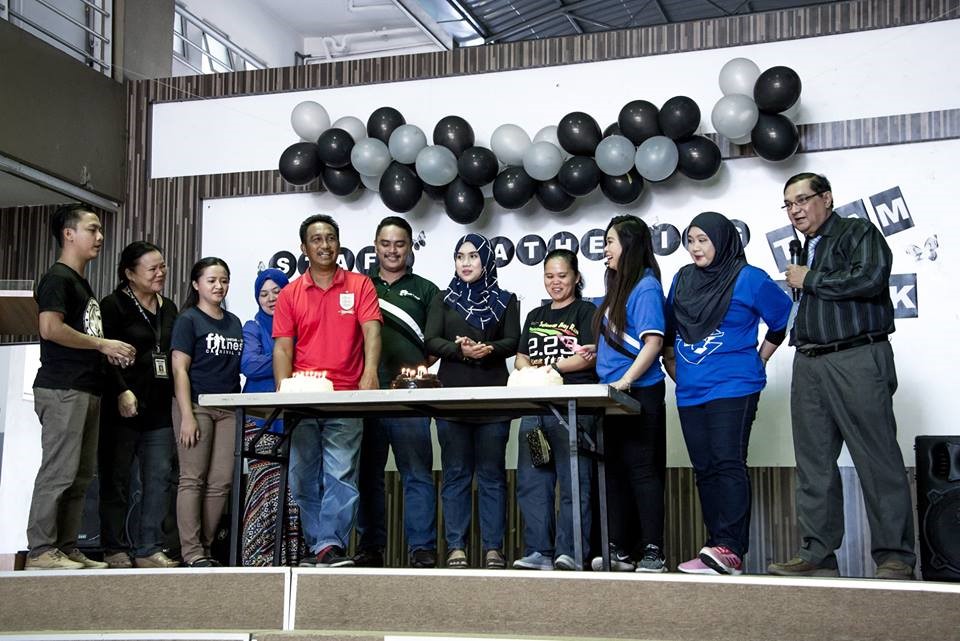 SIDMA College UNITAR Sabah 2018 Second Staff gathering was held at SIDMA College UNITAR Sabah. For this session of the gathering, Black Team was entrusted to organise it which took place at SIDMA's Atrium on the 20th of April 2018, and was led by Mr Rody Rodiley Tunai.  Madam Bibiana Buayie, the emcee of the event, was also from the Black Team.
The staff gathering started at around 9 am with staff registering and gathering according to the 4 participating teams, consisted of Green Team, Red Team, Blue Team and Yellow Team. Interestingly, all staffs regardless of their department or rank joined the gathering which was a combination of a formal and informal setting with games and activities being set-up at the end of it to enable all staff to mingle together outside their office setting and most importantly, to have fun and build closer bond among them.
In his opening address at the gathering, Dr Morni Hj Kambrie (Founder and Chairman, SIDMA College UNITAR Sabah), extended his warmest wishes to every staff of SIDMA College who took the time to join the event as it was also an event to bring closer and together all of SIDMA staff from diverse background to a united SIDMA Community, to reflect as well as to consolidate the objectives, vision and mission of the college.
Next, Dr Morni mentioned on the current economic situation that have affected 39 colleges last year, 2017, and expected to hit close to 100 colleges this year whereby the said colleges have to be closed down due to various reasons among other the low number of student and/or failing to meet the licensing requirement. Government on the other hand have recommended to the colleges to merge in order to gain the benefit of merging such as ability to penetrate into a new and larger market, improvise in fulfilling the student needs, better product development and most importantly boost the financial power of the colleges. However according to Dr Morni, merging will be difficult as it involves various challenges such as possibility of management style incompatibility, different goals and objectives as well as various other differences that may exist between the merging colleges where it must be ironed out prior to being legally merged. Due to that, for the time being, SIDMA College is leaning more towards joint venture and collaboration instead of merging with other colleges.
Dr Morni also shared on the importance for top management of colleges particularly to the Board of Management of SIDMA College to assess signs from the industry so that they will be better prepared in facing any challenges as the sign could indicate various threats to the sustainability of the education sector such as drops in the number of student and others.
Dr Morni also thrilled to announce that large number of poor students in SIDMA College Unitar Sabah managed to secure a one-off scholarship from Sabah Government amounting to RM950 for each of the successful applicant which will assist them in meeting their financial obligation and need. The scholarship is expected to be distributed in May 2018.
As SIDMA College is determined to improve itself and move to the next level, Dr Morni as the Chairman of the College shared few tips on how every staff can contribute to its success. He reminded that each and every staff need to work hand in hand in meeting SIDMA's Mission and Vision.
It's SIDMA's culture to have a compulsory slot during any of SIDMA College's Staff Gathering to have the Staffs' birthday celebration, and in this particularly gathering, staff whose birthday is on the month of March and April are celebrated whereby March-born staff consisted of Soliam, Nadia, Nuriyathi, Shafrani, Izah, Felicity, Meili and Mudin and April-born staff involving Jessica, Arwin, Wasnyliah, Masrin, Vanessanur, Jaccielia, Esther, Fitri and Natasha were called to be together in "Birthday Cake Candle Blowing" ceremony in front of the stage to the tune of the "Happy Birthday" song sang by all the other staff before they cut the cake to be distributed equally.
The Black Team, the organiser of this event, has arranged two (2) games to entertain and instil competitive spirit among the staff via activities such as "Find the French Suit" and "Centipede Run"; which saw the champion was a tie between Green Team and Blue Team; hence the tie-breaker was a "Street Dance" and "Rock–paper–scissors" activities which was participated by representatives from both teams amidst a fun loud cheering atmosphere.
Overall the winner was Green team followed by the Blue Team as the first runner up. Yellow Team on the hand won the second runner up and Red Team only managed to get third runner up. However what matter the most is that all staff are very happy and in a way they have managed to channel their energy to build closer relationship regardless of rank and department.
At the end of the gathering, high tea was served to all, and the event ended at around 11.30 a.m. Black Team extended their sincere thank you note, and congratulated all the staffs for their participation and openness to make the gathering a successful and fun event for all.
By Teo Eng Seng and Zain Azrai Bin Mohd Noor,
SIDMA College UNITAR Sabah,
KOTA KINABALU.