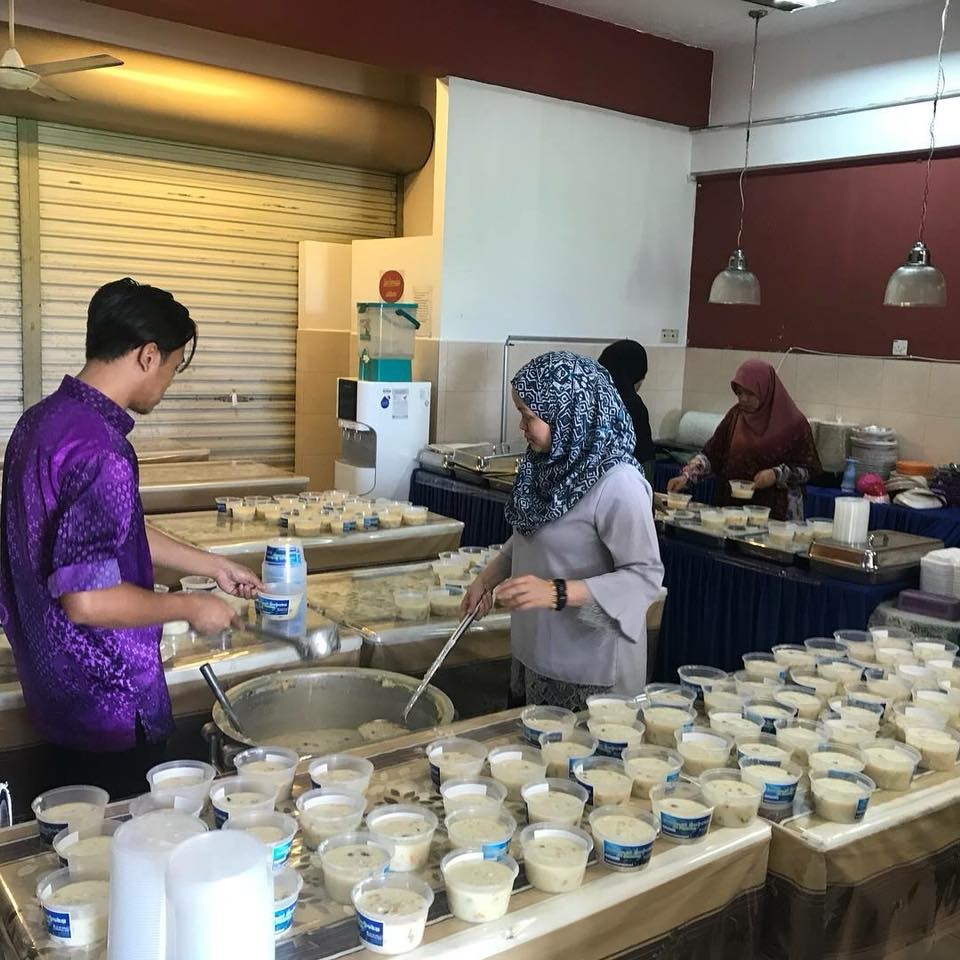 The Muslim's Holy Month of Ramadan for this year began on 16 May 2018, and the Muslims community of SIDMA College UNITAR Sabah embarked upon a month-long spiritual journey of fasting, offering prayers, self-reflection and charity work from 17 May till 15 June 2018 (upon the sighting of the moon).
Madrasah Jamiatul Fathi and Al-Mughni Orphanage Management Association of SIDMA College, under the patronage of Dr Morni Hj Kambrie (SIDMA College Chairman and Founder) together with Madam Azizah Khalid Merican (CEO), lined up a host of religious and social corporate obligations and commitment to be implemented at the campus throughout this religious month; with the main aim of getting SIDMA community to come together, mingle and pray in this holy month of Ramadan.
According to Madam Noradilah Binti Mohamaddia, Secretariat of SIDMA Ihya Ramadan Committee, among the SIDMA annual religious programmes for Ramadan are the Tadarus Al-Quran and Nuzul Al-Quran. These activities will be held daily from 9.00 am onwards at Madrasah Jamiatul Fathi and will be led by Ustazah Rohaya Binti Roslan; opened for SIDMA staff and students as well for residents nearby (subject to request, and approval by the committee).
Another customary event organised by the committee is the distribution of packed spiced porridge (bubur lambuk) at various selected strategic location such mosques, schools, police stations, fire rescue stations, hospitals and others in the districts of Penampang and Kota Kinabalu.
According to Dr Morni, the history on the distribution of bubur lambuk or Ramadan porridge by SIDMA College can be traced back to 1999 in SIDMA Sarawak, Kuching. The tradition continued in Kota Kinabalu in 2003 when SIDMA College Sabah was established. Bubur lambuk is a unique delicacy of Malaysian as it's a well-balanced dish for breaking the fast, and rows of people queue up in line to take the dish that is handed out to them for free, usually at mosques, after performing their Asr prayers.
As this year's Ramadan month coincide with college semester break, SIDMA staff who are free volunteered themselves and take their turn to assist during the packing and distribution of the porridge. The following is the schedule and places for the porridge distribution throughout the month of Ramadan:
17 May 2018
Jabatan Balai Bomba dan Penyelamat Jln Lintas
Masjid Bandaraya Kota Kinabalu, Likas.
Kolej Vokasional, Likas.
21 May 2018
Masjid Negeri Sabah, Jln Tunku Abdul Rahman
Maahad Tahfiz Darul Hadis Sabah, Kampung Sembulan Lama
Masjid Sembulan, Kg Sembulan, Kota Kinabalu.
24 May 2018
SMKA Kota Kinabalu, Bukit Padang, Kota Kinabalu.
Masjid Nurul Hikmah, Jln Khidmat, Kota Kinabalu.
Masjid Baitus Salaam, Lorong Vista Minintod, Penampang. 
28 May 2018
SMKA Tun Ahmadshah, Kg Kalansanan, Kota Kinabalu.
Kota Kinabalu City Mosque, Bandaran Berjaya.
4 June 2018
Penampang District Police Headquarters, Dongongon.
Penampang Fire and Rescue Station, Dongongon.
Masjid As-Sobirin, Kg Sipanggil,Putatan, Kota Kinabalu.
7 June 2018
Maktab Sabah, Sembulan, Kota Kinabalu.
Hospital Queen Elizabeth Elizabeth 1, Kota Kinabalu.
The general public who are staying in and around the above locations are cordially invited to collect their portion of Bubur Lambuk from 3.40 pm or after performing their Asr prayer.
As 2018 Ramadan coincide with the February 2018 Semester Break, SIDMA Communal Prayers together with staff, students and the local community around the college will be arranged in collaboration with SIDMA Student Islamic Club (GAMSIS) and the Student Representative Council (MPM) when the students are back to the campus.
Daily Communal Religious activities such as Tazkirah, Majlis Berbuka Puasa (Iftar Jama'ie), Maghrib prayer, Tarawih session will only be held with staff and students after 4 June 2018 at SIDMA Atrium. Residents staying around SIDMA College are welcome to participate in the event.
More information on Ihya Ramadan Al-Mubarak SIDMA College activities can be obtained from Madam Noradilah Binti Mohamaddia at SIDMA College Sabah; Tel 088-732 000 or 088-732 020.
By Teo Eng Seng and Zain Azrai Bin Mohd Noor,
SIDMA College Sabah,
KOTA KINABALU