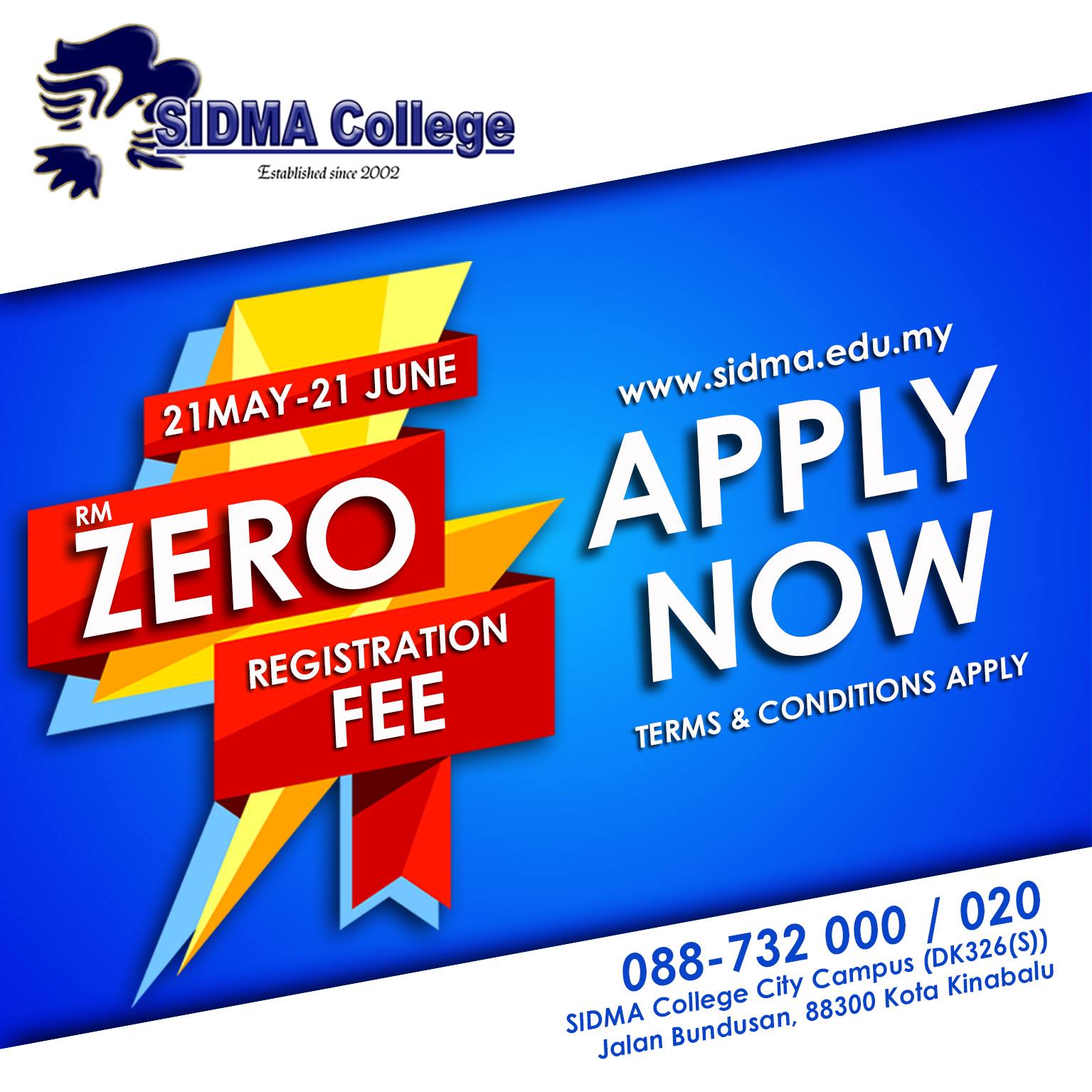 Dr Morni Hj Kambrie (Chairman and Founder of SIDMA College UNITAR Sabah), Madam Azlina Ngatimin (Director of Corporate Relations and Business Development) and Madam Azizah Khalid Merican (CEO) cordially invites SPM or STPM leavers, Diploma graduates or those with other related qualifications to enrol for their tertiary education with the college for the June 2018 intake of new students.
During this special promotion period (21 May 2018 - 21 June 2018), students will be exempted from paying the Registration Fee of RM 350.00. Beside that, their first month hostel fee of RM 150.00 will also be waived. This is special promotion is subjected to terms and conditions. For more information, please refer to Corporate Relations and Business Development Department at 088-732000 or 088-732020.
Furthermore, this privilege is only applicable to students who registered directly with the college (and not through any third party), and ONLY for the following Diploma Courses: 
Diploma Early Childhood Education Studies.
Diploma Occupational Safety and Health.
SIDMA College Sabah, since its establishment in Kota Kinabalu back in 2002, has been working very closely with UNITAR International University, an university with strong and significant network of academic collaborations with both the academic and corporate sectors, as well as the industrial partners around the region to offer affordable, relevant and demanded study programmes which are professionally aligned with the requirements of these industrial players – both nationally and internationally.
SIDMA College has prosper jubilantly over the years, and has rapidly emerged as the largest regional centre in Malaysia offering UNITAR Programmes; in addition to SIDMA home-grown programmes, particularly the Diploma Early Childhood Education studies.
In June 2012, SIDMA College collaborated with Cyberjaya University College of Medical Sciences  (CUCMS), a College University of international standing, and a leading medical institution in the region; practicing the core mission of becoming "a distinctive medical sciences institution of international repute, producing competent healthcare professionals, who are intellectually, emotionally and spiritually balanced".
In responding to the rapid technological advances which have given rise to trends such automation, globalisation and workplace changes within industries; SIDMA College Sabah, through the dynamic leadership of Dr Morni and Madam Azizah have reassured that the college infrastructure and technology have been geared towards producing graduates who would have a broader set of 21st Century skills and talents. Blended and Immersed Teaching as well as flipped classroom model has been adopted to ensure that its students and graduates will be equipped with ICT and collaborative skills, critical and creative thinking skills, communicative skills, human values, be interested in lifelong learning, to ensure that its graduates can function effective in current and in future time..
For its June 2018 Intake of new students, SIDMA College offers programmes in:
Foundation Courses:
Foundations in Management
Diploma Courses:
Diploma in Early Childhood Education Studies
Diploma in Occupational Safety and Health
Diploma in Management
Bachelor's Degree Courses:
Bachelor of Education (Hons)
Bachelor of Early Childhood Education (Hons)
Bachelor of Business Administration (Hons)
Bachelor of Management (Hons)
Bachelor of Information Technology (Hons)
Masters Courses:
Masters of Business Administration (MBA)
Masters of Education (Education Leadership and Management - ELM)
Masters of Education (Early Childhood Education)
SIDMA June 2018 intake of new students is progress. Various financial assistance, such as PTPTN are available. For more information about courses and financial assistance offered at SIDMA College, please browse SIDMA Website, or like SIDMA Facebook Account – SIDMA College. Potential students are also encouraged to apply online by visiting SIDMA Website, or to call SIDMA hotline number 088-732 000 or 088-732 020, or through fax @ 088-731 015 or 088-732 019. Potential students are also welcome to visit us at SIDMA College UNITAR Sabah, Jalan Bundusan, 88300 KOTA KINABALU.
BY Teo Eng Seng and Zain Azrai Bin Mohd Noor,
SIDMA College UNITAR Sabah,
KOTA KINABALU.