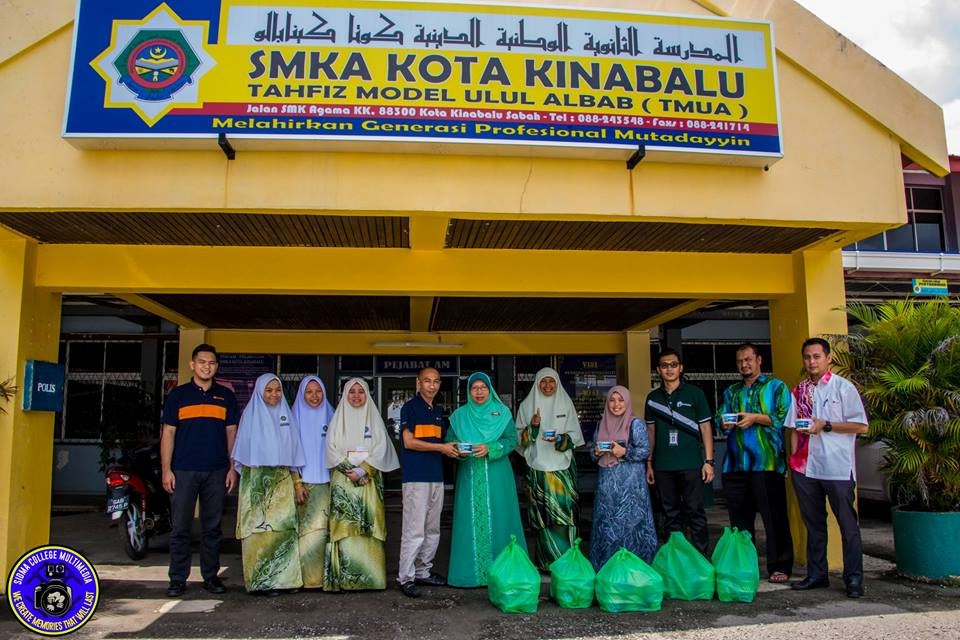 SIDMA College under the dynamic leadership of Dr Morni Hj Kambrie (Chairman and Founder) and Madam Azizah Khalid Merican (CEO) enlivens the spirit of Ramadan with the distribution of packed spiced porridge or more popularly known as Ramadan Porridge (bubur lambuk) as one of the Muslim fasting month of Ramadan yearly activities of the college.
Madam Noradilah Binti Mohamaddia, Secretariat of 2018 SIDMA Ihya Ramadan Committee, announced that more than 60 SIDMA staff take their turn, during the twice a week scheduled gotong royong exercise to prepare about 400 – 500 packs of the porridge for distribution to various strategic locations in and around Kota Kinabalu and Penampang such as mosques, schools, police stations, fire and rescue stations, hospitals and more during the holy month of Ramadan.
According to Dr Morni, the distribution of Ramadan porridge started with a humble beginning at SIDMA College Sarawak in 1999. When SIDMA College Sabah was established in Kota Kinabalu in 2003, he continued the exact same tradition.
Dr Morni added that through this annual activity it will provide adequate opportunities for SIDMA staff to engage themselves in charity work, promote the spirit of giving and helping the needy during this holy month, thus indirectly bring them closer to Allah the Almighty, as  well as to remind them on the suffering of the less fortunate.
Bubur lambuk, a unique delicacy of Malaysian during Ramadan, is a very well balanced food which is essentially porridge cooked with minced meat and other ingredients together in one pot. Every Ramadan, rows of people will stand in line waiting patiently to take home the dish that is handed out to them for free, usually at mosques and etc.
From 17 May till 31 May 2018, SIDMA College scheduled and distributed the bubur lambuk to the following locations: Jabatan Balai Bomba dan Penyelamat Jalan Lintas; Masjid Bandaraya Kota Kinabalu; Kolej Vokasional Likas; Masjid Negeri Sabah; Maahad Tahfiz Darul Hadis Sabah; Masjid Kg Sembulan; SMKA Kota Kinabalu; Masjid Nurul Hikmah; Masjid Baitus Salaam Vista Minintod; SMKA Tun Ahmadshah, Kota Kinabalu City Mosque and Bandaran Berjaya.
On 4 June 2018, the team will be distributing the porridge at Penampang District Police Headquarters; Penampang Fire and Rescue Station and Masjid As-Sobirin, Kg Sipanggil, Putatan.
The final date for SIDMA team to distribute Ramadan porridge is on 7 June 2018 at Maktab Sabah and Queen Elizabeth 1 Hospital Kota Kinabalu. The general public staying in and around the above mentioned locations are welcome to collect their packs of the porridge.
For more information on SIDMA Ramadan Porridge distribution as well as SIDMA Ihya Ramadan activities you may contact from Madam Noradilah Binti Mohamaddia at SIDMA College Sabah, Hotline 088-732 000 or 088-732 020.
By Teo Eng Seng and Zain Azrai Bin Mohd Noor,
SIDMA College Sabah,
KOTA KINABALU.