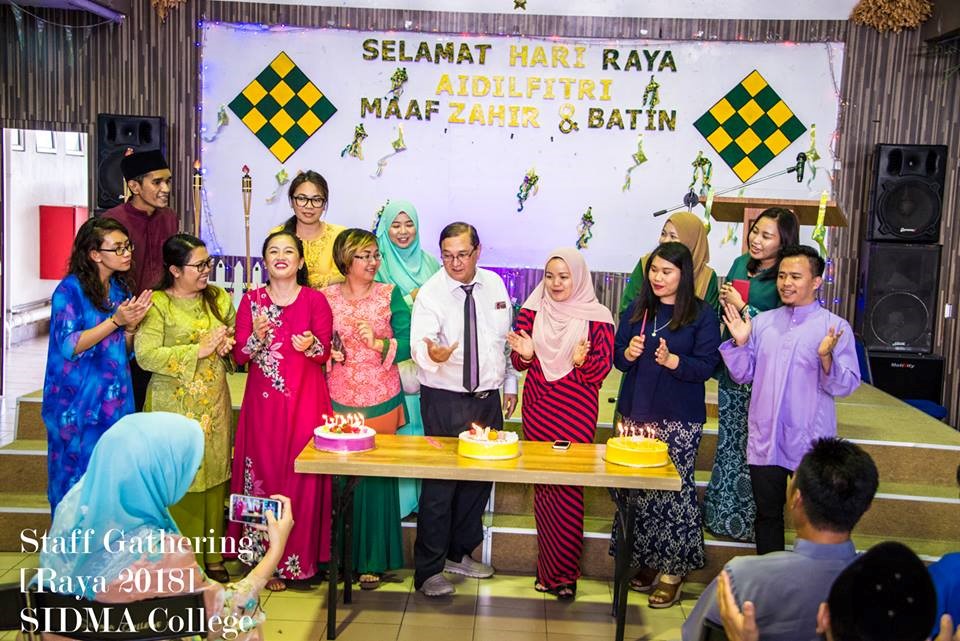 Hari Raya literally means celebration day; and Hari Raya Aidilfitri is the day that marks the end of Ramadan, the Islamic holy month of the dawn-to-dusk fasting. Hari Raya Aidilfitri is considered one of the most important celebrations for the Muslims. Also known as "Eid Al Fitr", it's a time for family togetherness and celebration, with everyone enjoying themselves after the austerity of Ramadan; and the start of a new month on the Islamic calendar, Syawal. Hence, in conjunction with this auspicious festive occasion, SIDMA College's Human Resource department with the collaboration of staff from the Yellow Team, led by Mr Bonaventure Wences, organised the SIDMA College Staff Gathering cum Hari Raya Aidilfitri 2018 Celebration on 29 June 2018 at SIDMA College Atrium.
Dr Morni Hj Kambrie (SIDMA College Founder and Chairman), Madam Azlina Ngatimin (Director, Corporate Relations and Business Development), Madam Azizah Khalid Merican (CEO), Managers, Heads of Departments, lecturers, staff and students were invited to the event. SIDMA Atrium was decorated with "ketupat", and Malaysian Hari Raya music echoed around SIDMA Building. The whole college came together for a celebration assembly by wearing colourful attire, in-line with the team of the day "Warna-warni Aidilfitri"
Dr Morni, in his officiating address, pride the college and its staff for celebrating such annual event meaningfully. He added that the programmed aimed for SIDMA community to celebrate the occasion with joy as one big family, and to foster closer relationship among them; as SIDMA College practices a progressive corporate culture. By celebrating together the various Malaysian festivals at the college, it provide the necessary platforms for staff to adopt and practice the skills and tools necessary for democratic living. He also encouraged the SIDMA Community to continue practicing selflessness, humility, openness, inclusiveness, and more as such universal values are very much in-line with spirit of Ramadan and Aidilfitri celebration.
He also took the opportunity to convey his appreciation to all SIDMA staff for their dedication, tireless and incredible contributions towards the college, as one big family. He thanked them for their great services that they had rendered, particularly in motivating the students to strive for excellence in their studies and also actively take part in sports and extra–curricular activities, towards developing their skills and enriching their knowledge and experience; and he sincerely hoped that such positive commitment be continued and upgraded, particularly during current challenging time. Dr Morni, too, prayed for the very best for them and their family.   
Like many other festive assemblies of the college, the highlight of the event was the introduction of various fun-based activities planned by the organiser. For this gathering, the Yellow Team introduced three activities namely (i) Face-cookies (ii) Singing Raya Song; (iii) Drink and flipping the cup for staff of the four other teams to participate in a friendly and fun competition as well as to unwind themselves.
Green Team emerged champion of the day after managing to defeat the three other teams that participated in the Raya Fun activities. Team representative, Ms Sylla Severinus received their winning hamper from Madam Azlina Ngatimin. During the event, the organiser also declared that the best "warna-warni Aidilfitri" dress of the day went to Mr Jerome Aaron (man category) and Ms Haslynda Binti Ajamain (lady category)
SIDMA staff assembly is never complete without the must-have staffs' "Birthday Celebration". For this third Staff gathering for year 2018, it was dedicated for staff celebrating their birthday on the month of May and June 2018. During the event, Madam Azlina and all birthday "boys" and "girls" were specially invited to blow their birthday candles and cut their birthday cake amidst all the other colleagues singing Happy Birthday songs.
The festive assembly ended with all staff being invited to a buffet Hi-tea. Everybody had a great time in the presence of food and great company. For the new staff, this has been a great opportunity for them to mingle with their fellow colleagues.
"Full of Love, Peace and Prosperity,
On Hari Raya Aidilfitri,
Salam Aidilfitri,
Maaf Zahir dan Batin"
By Teo Eng Seng and Zain Azrai Bin Mohd Noor,
SIDMA College Sabah,
KOTA KINABALU.