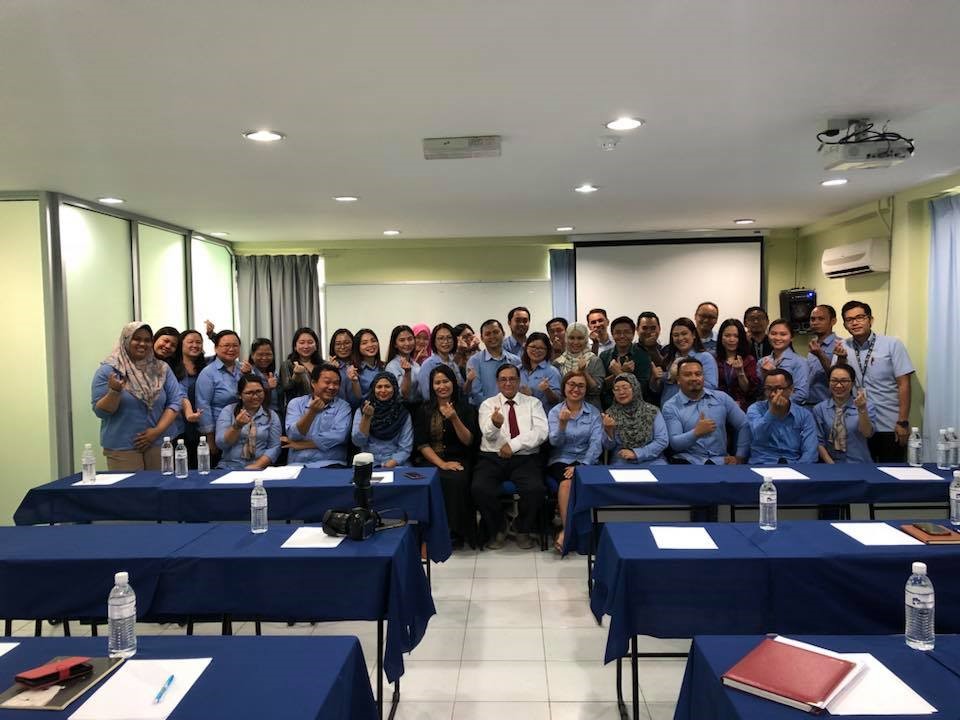 Based on the 2010 census, Sabah's population was roughly around 3.2 million; with around at least 30 indigenous groups speaking more than 50 different languages, with over 80 dialects spoken; which could also be categorised into Dusunic, Murutic, Paitanic and Sama Bajau (Lasimbang 2004), and Kadazandusun speakers formed the largest single language community in Sabah (Lasimbang & Kinajil, 2000).
Recently a local daily reported an incident that during the third and final round of the 2017 state-wide Mr Kaamatan or Harvest Festival Contest, only one of the seven finalists (out of forty-four contestants); Dicky Jerry, representing the Keningau District, responded to the two compulsory questions posed, fluently in his mother tongue language, the Kadazandusun language.
In 2005, UNESCO reported that the Kadazandusun language was classified as an endangered language, spoken by a mere 300,000 people. The language has apparently joined about 7,000 other languages worldwide that are facing the real threat of extinction; and indeed could eventually become a mere literary exhibit in the next fifty years if is left to survive on its own.
In the District of Penampang, where development and transformation are moving at a fast pace relatives to the other districts; the current speakers of the Kadazandusun language are mostly in their fifties and above category. Kadazandusun parents, thinking that their children could learn their mother tongues at home, encourage their children to learn English and Malay (Bahasa Malaysia) hoping for them to gain an advantage in securing jobs in both the government and private sectors.
Since the establishment of SIDMA College Sabah in 2002, Dr Morni Hj Kambrie (Chairman and Founder) harbours his strong desire to intervene the seemingly declining of the Kadazandusun language from its originality. The formation of a Kadazandusun Language Club (and having Dr Morni as Advisor) was the way forward for him to complement and supplement positive initiatives to revive the language.
Upon the registration of SIDMA College Kadazandusun Language Club by the Registrar of Society on 19 November 2014, various initiatives have been conducted to popularise the language. The major ones being the Kadazandusun Language Storytelling Competition 2016 (Piboi an Mananongon Boros Kadazandusun) and Short Stories Writing Competition (Piboi an Monuat Suan Toniboi Doid Boros Kadazandusun) for the secondary school students. The competitions was conducted with the cooperation and collaboration from Sabah State Education Department.
The next achievement, being the publication of the book "Inspirasi Anak-Anak Sabah" in Kadazandusun language. The initiative being to complement and supplement the shortage of reading materials in the Kadazandusun language among school children; and to further assist the longing of reading materials by the Kadazandusun language speaking families.
In 2017, the first ever Kadazan Language Public Speaking Intensive Courses; also known as the "Kadazan Language Challenge in 16 Hours" of Public Speaking and Conversational Course" with Ms Juliana  Jimis as the chief facilitator; were held throughout the year. Certificate of attendance was awarded to those who managed to complete the programme.
In its continuous efforts to preserve and ensure the relevancy of Kadazandusun language in this modern era, SIDMA College's Kadazandusun Language Club, on 19 September 2018, organised a one-day Kadazandusun Language Immersion Conversational  programme to assist the college staff (members of the club) to be able to communicate effectively in Bahasa Kadazandusun. Madam Connie Muslim @ Veronica Masilim, a senior Bahasa Kadazandusun teacher from SM St Peter, Telipok was engaged as chief facilitator for the event
Madam Connie who was quite impressed with the SIDMA College Kadazadusun Language Club for the various initiatives conducted to complement and supplement, to intervene and put the language to a stronger footing. She too congratulated SIDMA College and Dr Morni for being the only institution of higher learning that placed special emphasis on promoting the Kadazandusun language.
Dr Morni and Madam Salumah Nain (Chairwoman 2017-2019) when met after the event thanked Madam Connie Muslim for her time and kind assistance in sharing and giving valuable lesson on the language. They too, congratulated the Project Directors, Madam Janet Jaquiline Jiokis and Madam Jennyca Singau for successfully organising the event. Dr Morni also congratulated the staff for their participation and hope that they can assist in inspiring today's youth to communicate effectively in Kadazandusun language.
Dr Morni also took the opportunity to announce that SIDMA College Kadazandusun Language Club, with the collaboration and cooperation from Education Department Sabah, District Education Officers, Secondary School Principals, and secondary school Kadazandusun teachers will co-organise a Kadazandusun Language Speech Contest (Pialaan Raisol Doid Boros Kadazandusun) for all secondary schools students taking Bahasa Kadazandusun Language as Elective Language. Among some of the attractive prizes up for grabs are cash prizes, trophies and certificates.
Other activities planned for the year are:
            i.     Mini Fun Fair.
            ii.    KadazanDusun Language Choir Competition.
            iii.   KadazanDusun Language Apps Competition.
The Grand Finale of 2018 events "Sodop Pisompunan 2018" will be held on 30 November 2018 at Shangri-La Resort Tangjung Aru. Tickets for the event will be sold at RM100.00 for members of the club, and RM150.00 for non-members.
For more information, please contact Kadazandusun Language Club, SIDMA College Sabah, Jalan Bundusan, 88300 Kota Kinabalu at 088-732 000 or 088-732 020; or fax at 088-732 019. You can also email This email address is being protected from spambots. You need JavaScript enabled to view it. or This email address is being protected from spambots. You need JavaScript enabled to view it..
Further information on the Speech Contest can also be obtained from Facebook Account  "Kelab Bahasa KadazanDusun SIDMA College" Further details can also be channelled to Madam Brenda; Tel : 016-824 5117.
By Teo Eng Seng and Zain Azrai Bin Mohd Noor,
SIDMA College Sabah,
88300 KOTA KINABALU.