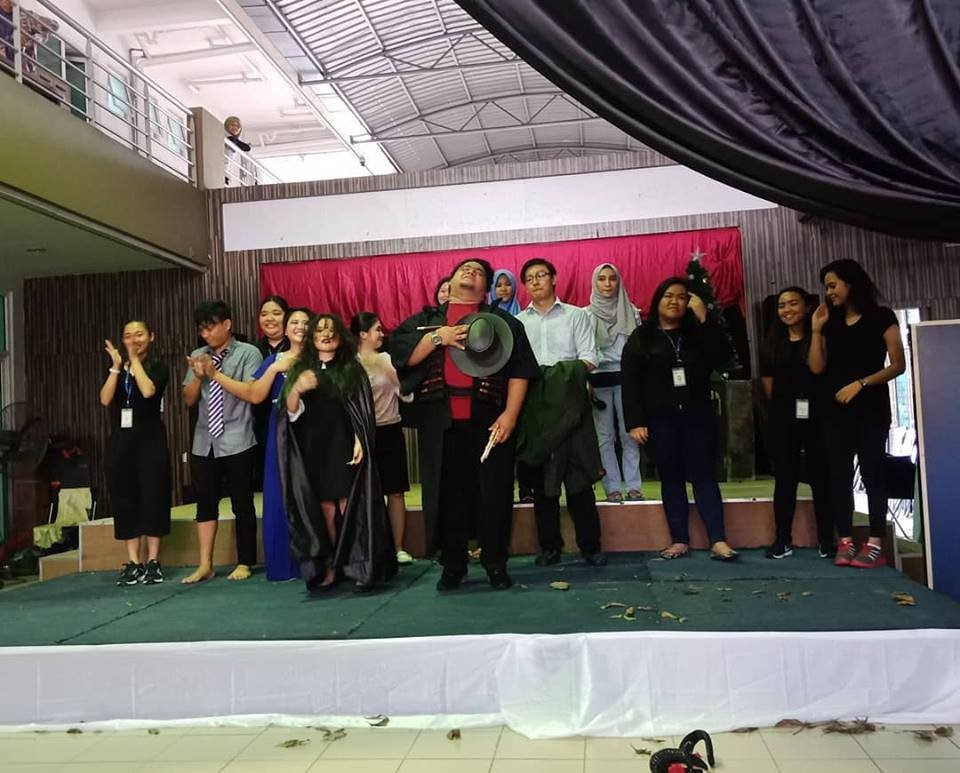 SIDMA College UNITAR Sabah is strongly committed in instilling the campus with the objective of developing education and training along the whole life; the expression of the will of promoting the highest level of knowledge possible through a wide access to education, or an integrated education, both inside and outside the classroom, thus empowering students to develop a fuller array of competencies, skills and knowledge, and of unleashing their creative potential.
The College encourages students to pursue opportunities for learning and professional growth, based on the college's own institutional and external sources. Such an environment is essential in maintaining and building a competent work force that will meet the ever changing demands of our time, while working towards being one of the leading private institutions of higher learning in Sabah as well as to being the "Champion of Change".  
On 11th December 2018, the final year students who took Language and Theatre class (ESLB 4044/ ESLB3194) organized two Theatre Performance (The Arcane Hunter and Brunswick in Penelope Land) at SIDMA College City Campus, Penampang for all students, lecturers and guest. The performance was to showcase students' creative thinking skills from their collaborative experience as well as their theoretical examination of theatre practice, before developing their own conceptual understanding and the application of skills related to the theatre discipline in performance, scenography and theatre production.
The first performance, The Arcane Hunter, touches on mystery, crime and fantasy where the main actor goes on a demon hunt to kill Azrael. While the second performance is about fantasy and musical where Brunswick, a writer, goes on a journey of discovery to finish his book and stumble upon a magical dreaming tree. Throughout the course, the students were exposed to interactive activities that introduced them to different learning styles of individuals, especially with references to the students. Moreover, participants were also able to share their thoughts and experiences in teaching students based on the different learning styles, with alignment of the 21st century teaching aspects; communicative, creative, critical thinking skills and collaborative skills.
It is hoped that from the course, students will have the opportunities to acquire new knowledge and enhance their creative growth. Many of the students when met, expressed their pleasures in joining such developing programs.
SIDMA College UNITAR Sabah, since its establishment in Kota Kinabalu Sabah in 2002 has prosper jubilantly over the years, and rapidly emerged as the first and largest UNITAR regional centre in Malaysia; as well as offering its home grown academic programmes.
List of Academic Programmes offered at SIDMA College UNITAR Sabah for its 2018 / 2019 intake is as follows:
Foundation Course:

Foundation in Management.

Diploma Courses:

Diploma in Early Childhood Education
Diploma in Occupational Safety and Health
Diploma in Management.

Bachelor's Degree Courses:

Bachelor of Education (Hons)
Bachelor of Education (Early Childhood Education) Hons.
Bachelor of Business Administration (Hons)
Bachelor of Management (Hons).

Masters Courses:

Masters of Business Administration (MBA)
Masters of Education (Education Leadership and Management)
Masters of Education (Early Childhood Education.
Masters of Education (TESl)
For more information on any of the above courses offered at SIDMA College UNITAR Sabah, please browse SIDMA College Sabah Website, or liked  SIDMA College Facebook Accountt. Interested candidates are cordially invited to visit SIDMA College UNITAR Sabah located at Jalan Bundusan, 88300 Kota Kinabalu; or call SIDMA Hotline at 088-732 000 or 088-732 020.
By Rachell Maycy Moris Mojolou and Teo Eng Seng.
SIDMA College Sabah,
KOTA KINABALU.