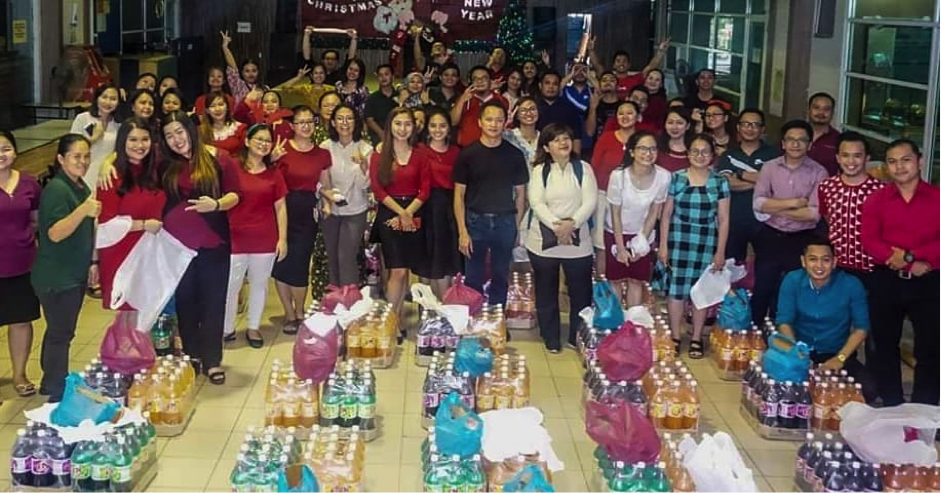 Chief Executive Officer, Madam Azizah Khalid Merican on behalf of Dr Morni Hj Kambrie, Founder and Chairman SIDMA College who had to attend another function that he had committed earlier, took her time off to distribute the 2018 Christmas Goodies to SIDMA staff celebrating Christmas on 25 December 2018.
The goodies presentation ceremony which was held at SIDMA College Atrium on 20th December 2018 was organised by SIDMA Staff Welfare Association (PKKKSS) Committee members under the chairmanship of Mr Zain Azrai.
During this auspicious ceremony, Madam Azizah on behalf of the Management of SIDMA College Sabah took the opportunity to wish in advance Merry Christmas and Happy New Year 2019 to lecturers, staff, students and friends of SIDMA College Sabah, prior to presenting the Christmas Goodies to the staff.
Staff of SIDMA College received various food and beverages according to their wish list, which include daily necessities such as chicken parts, soft drinks, freshly baked cakes and more.
The distribution of giveaways to staff during Malaysia Festivals such as Christmas, Hari Raya Aidilfitri, Hari Raya Aidiladha, Chinese New Year and Harvest Festival celebration is very much in line with SIDMA College Progressive Corporate Work Culture as the management believe that the continuous good relationship between the staff from various background will increase the relevancy and competitive edge of the college, thus providing the necessary platforms for students to practice the skills and tools necessary for democratic living; as well as enabling all SIDMA staff from various background to celebrate together the various Malaysian festival as one big family.
While inculcating the spirit of sharing, giving and respecting the plurality of it's staff; it also symbolises Dr Morni's sincere contribution to recognise the excellence services rendered by all SIDMA staff throughout the year; as well as to motivate the strong collegiality among the staff and the college management.
Mr Zain Azrai, on behalf of PKKKSS committee members and SIDMA staff took the opportunity to thank Dr Morni and his family for their generosity, their willingness to share part of their earnings, as well as the caring attitude for the staff's wellbeing and happiness, particularly during special occasion such as this Christmas.
Meanwhile, Dr Morni, Madam Azlina (Director), Madam Azizah, and Mr Zain Azrai wished all SIDMA staff, students, and the general public a Merry Christmas and Happy New Year 2019.
Teo Eng Seng and Zain Azrai Bin Mohd Noor,
SIDMA College Sabah,
KOTA KINABALU.