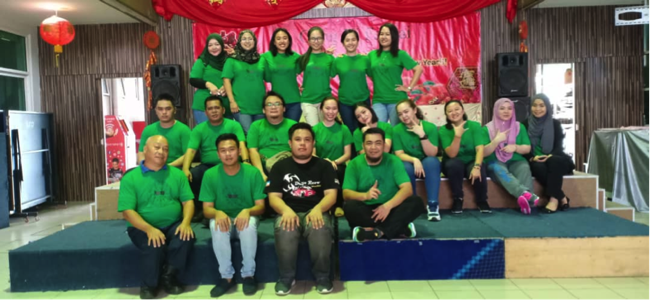 SIDMA College Staff from the "Green Lantern Group" kicked off SIDMA College 2019 Staff activities by organising a Staff College Gathering at SIDMA Atrium on 1 February 2019.
Dr Morni Hj. Kambrie (Chairman and Founder of SIDMA College) during his official address to all the staff of the college, congratulated and thanked them earnestly for their commitment and contributions towards the successful implementation of SIDMA College's vision and mission throughout year 2018.
He particularly congratulated the staff for their team and collaborative effort to ensure the successful implementation of the recently concluded SIDMA College Sabah 5th Convocation Ceremony held at Magellan Sutera Resort Grand Ballroom on 31 January 2019. Dr Morni acknowledged that he received numerous congratulatory notes on the uniqueness and smoothness of the convocation ceremony.
Dr Morni was very inspired with SIDMA Choir Performance during the convocation, and he specially congratulated Ms Florence Ajadap for her dedication and commitment towards the choir team.
During the event, Dr Morni took the liberty to remind his staff that the world economic situations and prospects for year 2019 is predicted to be not favourable for small and medium enterprises such as SIDMA College Sabah, and request his staff to be more output / outcome and goal oriented.
Furthermore, certain control factors such as the KPIs (Key Performance Indicators) will be adjusted to suits the situation to ensure that the college is performing well. In the mean times, all staff regardless of what department they are in need to ensure that student will be satisfied throughout their study at the college especially in giving the student great and satisfactory services.
Dr Morni also share good news whereby SIDMA College will be offering new programmes such Diploma in Sports Management, Diploma in Innovative Management, Diploma in Islamic Education and more; and he hope that SIDMA staff will give their full commitment to ensure the smooth implementation of such as and when it will be implemented.
Meanwhile, the setting-up of "Mus Kitchen" according to Dr Morni, is a long-term plan of the college to provide cheaper lunch and meals for SIDMA staff and students, and thus support from staff and students is very necessary. Dr Morni also announced the staff who has loyally served for five, ten and fifteen years that will received their special package this year.
During the event, Dr Morni also took the opportunity to present Chinese New Year Goodies such as Mandarin oranges, soft drinks, whole chicken, cookies and more to staff who will be celebrating Chinese New Year on 5 and 6 February 2019.
SIDMA College Staff Gathering is never complete without birthday greetings and well wishes from Dr Morni and colleagues to those celebrating their birthday that season. Similarly, this time staff who celebrated their birthday on the month of October, November and December 2018 were invited to the "Birthday Cake Candle Blowing amidst "Happy Birthday" song sang by all the other staff members.
The gathering continued with all the staff in their respective groups participated in the games organised by the Green Lantern team. Among some of the games were treasure hunts, 'Protect the balloon' and the 'Roti Canal Challenge'.
Around 4.30 pm all the games, the staff were invited to hi-tea provided by Mus Kitchen, whereby Chef Mustapha introduced his skills in making "roti canai".
Once everyone enjoyed the activities and hi-tea, the leader of Green Lantern Team, Mr Bryan Oliver Cabalce presented the gift to the winners. The overall result for this gathering are as follows:
Champion – Red Team
First Runner-up – Blue Team
Second Runner-up – Yellow Team
Third Runner-up – Black Team
By 5pm, the gathering wraps up with a Zumba session. The Green Lantern Team extended their sincere thank you note, and congratulated all their colleagues for their collaboration to make the gathering a success one.
Dr Morni, SIDMA Board of Management, staff and student took the opportunity to wish to all lecturers, staff, students, relatives and friends " Happy and Prosperous Chinese New Year 2019". "GONG XI FA CAI".
By Teo Eng Seng and Zain Azrai,
SIDMA College UNITAR Sabah,
KOTA KINABALU.