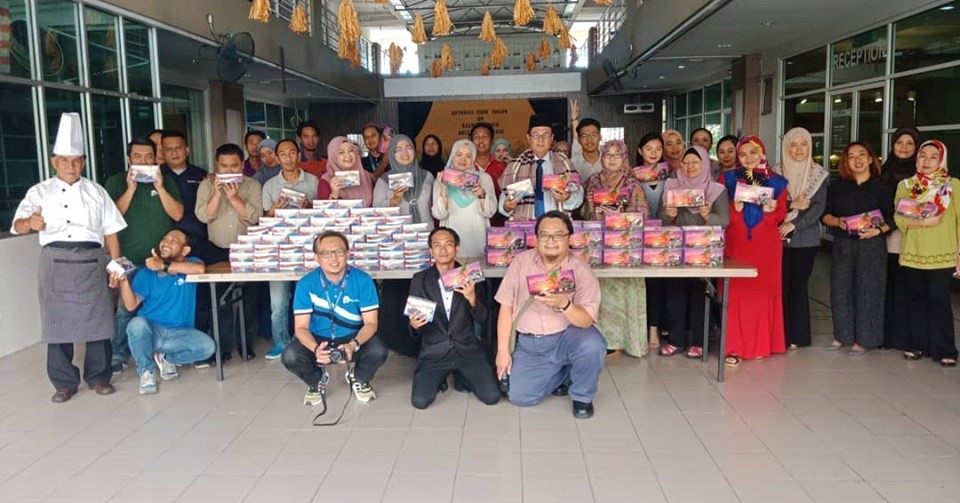 The month of Ramadan 1440 Hijri, the Muslim Holy Month of the year is expected to begin on 06 May 2019 (upon the sighting of the new crescent moon), and Muslims community of SIDMA College joining the Muslims all over the world, will embarked upon a month-long spiritual journey of fasting, offering prayers, self-reflection and charity work beginning 06 May 2019. This is in-line with the Prophet's teaching that 'when the month of Ramadan comes, the gates of Paradise are opened and the gates of Hell-fire are closed and that the devils are chained (Bukhari & Muslims).
Fasting during the holy month is one of the five pillars of Islam, which also includes prayer and charity offerings. To fast, Muslims abstain from eating, drinking, smoking, and more from dawn to sunset.
In conjunction with this auspicious month, Prof Dr Morni Hj Kambrie (Chairman and Founder of SIDMA College Sabah) launched the Ihya Ramadan Al-Mubarak 2019 for SIDMA College by distributing dates (kurma) to all SIDMA staff on 2 May 2019 at SIDMA Atrium. The dates are sponsored by Mus Kitchen restaurant located at Jalan Bundusan, Kota Kinabalu.
Dr Morni announced that throughout the month of Ramadan 2019,Madrasah Jamiatul Fathi, Al-Mughni Orphanage Management Association, and SIDMA Islamic Students Club (GAMSIS) has been given the mandate to line-up a host of religious and SIDMA Corporate Social Responsibilities obligations and commitment to be implemented involving both staff and students of the college. Apart from these, more activities will be announced from time to time to enable all SIDMA community and its surrounding stakeholder to come together, mingle and pray to enliven the spirit of a joyous month of Ramadan in the college. He encouraged all SIDMA College staff and students to participate in all these activities.
According to Puan Noradilah Binti Mohamadia and Ustazah Rohaya Binti Ruslan, Secretariat of SIDMA Ihya Ramadan Committee, among SIDMA' s annual religious activities for staff and students is the Tadarus Al-Quran which will commence on 6 May 2019 at Madrasah Jamiatul Fathi, beginning 9.00 am throughout the month of Ramadan. SIDMA staff, students and the general public are welcome to participate in the daily event. Ustazah Rohaya and Puan Noradilah will be available during each session of the event.
Another customary annual event at SIDMA College during Ramadan is the distribution of packed spiced porridge, popularly known as "Bubur Lambuk" at various strategic locations such as mosques, schools, police stations, fire & rescue stations, hospitals, and more in and around Kota Kinabalu and Penampang.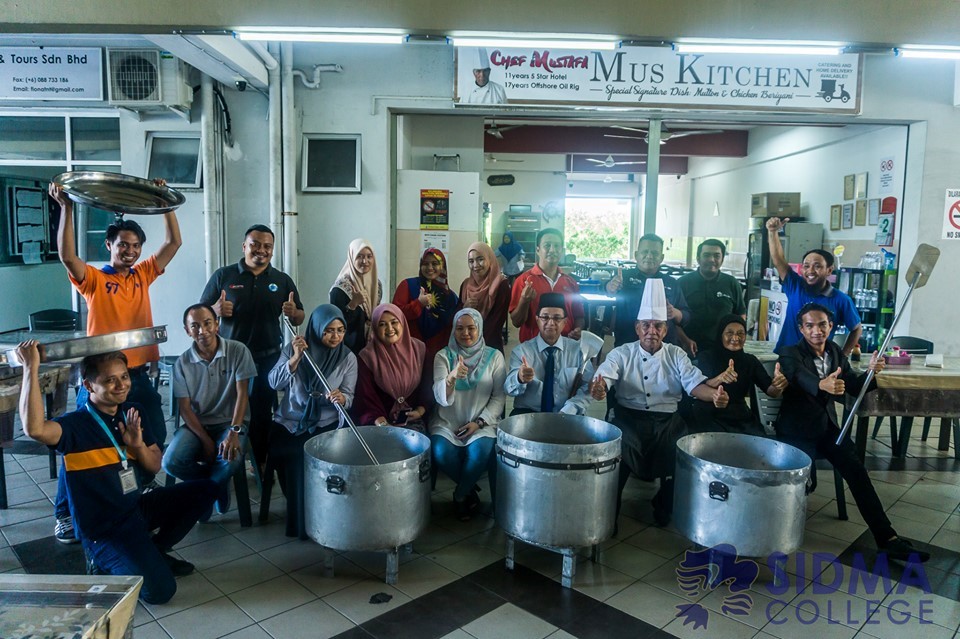 According to Prof Dr Morni Hj Kambrie, the distribution of Bubur Lambuk or Ramadan porridge can be traced back since the beginning of SIDMA Sarawak in 1999. The tradition continued when SIDMA College Sabah was established in Kota Kinabalu in 2002.
Bubur Lambuk is a unique delicacy of Malaysian, particularly during Ramadan. It is a well-balanced dish for breaking the fast. Generally rows of people from all walks of life will queue up in line at mosques, after their Asr prayer, for their share of the Bubur Lambuk that is handed to them for free.  
For the 2019 Ramadan SIDMA College Sabah will prepare Bubur Lambuk for distribution everyday throughout Ramadan 2019. Apart from SIDMA College own contribution, SIDMA College managed to solicit donation from various parties including prominent politician, business owners, corporate figures as well as the general public for the college to prepare the porridge and distributes it to their selected location. The college with collaboration of Mus Kitchen will prepare, packed and distribute the porridge to respective places as requested by the donors.
SIDMA College, through GAMSIS have also lined up daily Tazkirah and Communal Prayers for staff, students and general public at SIDMA Atrium. Majlis Berbuka Puasa (Iftar Jamaie) and Maghrib prayer will also be held. SIDMA staff, students and general public staying around SIDMA College Sabah are welcomed to participate in the event.
For more information on Ihya Ramadan Al-Mubarak SIDMA College Sabah, please contact Puan Noradilah or Ustazah Rohaya at 088- 732 000 or 088 732 020.For those who are interested to contribute Bubur Lambuk through SIDMA College Sabah, please called Dr Morni at 088-731376 for more details and information.
Ibn `Abbas (may Allah be pleased with him) narrated:
"The Prophet was the most generous of all people, and he used to become more generous in Ramadan when Gabriel met him. Gabriel used to meet him every night during Ramadan to revise the Qur'an with him. So, Allah's Messenger then used to be more generous than the fast wind."
(Al-Bukhari)

May this Ramadan will be better than previous years, Happy Fasting and have a blessed Ramadan
By,
Teo Eng Seng and Zain Azrai,
SIDMA College Sabah,
88300 KOTA KINABALU.