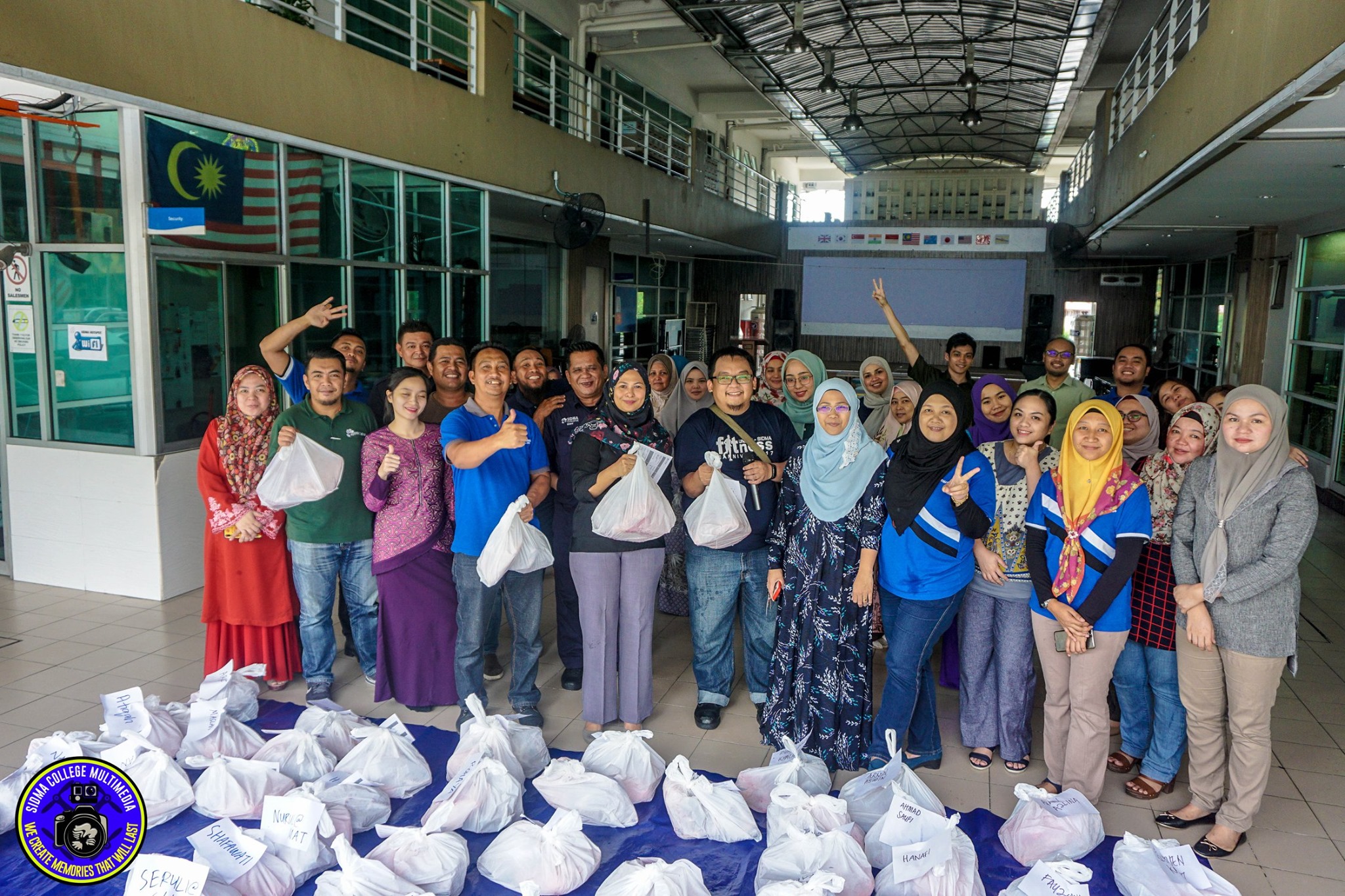 Hari Raya Aidiladha, also called the feast of sacrifice, is an Islamic festival that falls on the 10th day of Zulhijjah (the 12 month of the Islamic calendar. The event is to commemorate Prophet Ibrahim's (Abraham's) complete faith and trust in God. This was related in the story of God commanding Ibrahim to sacrifice his son, Ismail (Ishmael), a commandment that Ibrahim responded to with obedience. God stopped him and provided him with a sheep to substitute as a sacrifice, instead of his son. The festival also marks the end of the Hajj (the Muslim pilgrimage to the holy city of Mecca in Saudi Arabia.
In conjunction with this year Hari Raya Aidiladha celebration which falls on 11th August 2019; Prof Dr Morni Hj Kambrie, SIDMA Chairman and Founder; with full collaboration from SIDMA Staff Welfare Association (PKKKSS) distributed goodies to SIDMA staff at SIDMA College Sabah Atrium on 08 August 2019 (Thursday).
According to Prof Dr Morni, it has been customary for SIDMA College to distribute goodies to staff celebrating the main Malaysia national festival such as Hari Raya Aidilfitri, Hari Raya Aidiladha, Harvest Festival, Christmas and Chinese New Year as one of their Corporate Social Responsibilities to share and to celebrate together with the staff as one big family. He also expressed his appreciation and recognition to all of his staff for their great services and contributions rendered by them throughout the year.
Goodies of basic festive necessities which comprises of chicken and beef were handed out to the staff by Puan Azizah Khalid Merican (CEO) on behalf of Prof Dr Morni who has earlier engaged with other commitment outside Sabah. Puan Azizah was accompanied by Puan Azlina Ngatimin (Director, Corporate Marketing and Business Development), Mr Zain Azrai (Chairman, PKKKSS) as well as other SIDMA staff.
Mr Zain Azrai, on behalf of all PKKKSS committee members and SIDMA staff thanked Prof Dr Morni and the Top Management for their generosity, the sharing and caring attitudes for the staff well-being and happiness; particularly during such auspicious occasion such as Hari Raya Aidiladha. 
Prof Dr Morni and family, Madam Azizah Khalid Merican and family, Mr Zain Azrai and family, Managers, Heads of Departments and family also shared their warm Hari Raya Aidiladha greetings to all lecturers, staff, students, parents, relatives and friends. Have a blessed, joyful and safe Hari Raya Aidiladha everyone!
By,
Teo Eng Seng and Zain Azrai,
SIDMA College Sabah,
88300 KOTA KINABALU.