BACHELOR OF ENGLISH (HONS)
MOHE/MQA Code:
(R/141/6/0036)11/19(A11034)
Level of Study:
Bachelor Degree
Faculty:
School of Education & Humanities
Duration:
3
Years
A degree in English is a specialized language academic discipline focusing on the study of linguistic components and literature (especially essays, novels, short stories, and poetry) as well as media communication. Students will develop a deeper foundation in the mechanics of grammar and usage, as well as study and analyse a wide variety of writing styles. Other areas covered are English sociolinguistics, including discourse analysis of written and spoken texts in the English language, the history of the English language, English language learning, and teaching, and the study of variations of English in the world. A degree in English now encompasses a much broader range of topics which stretch over multiple disciplines. To that end, the programme places particular importance on three core imperative skills: analyzing literature, a process which requires logic and reflective analysis; creativity and imagination with regards to the production of good writing; and an understanding of different cultures, civilizations, and literary styles. Graduates of this programme will be equipped with critical thinking skills that will empower them to understand the ever-changing media and form of communication and to function effectively in any professional setting where they need to clearly and persuasively express their ideas in writing and verbal communication.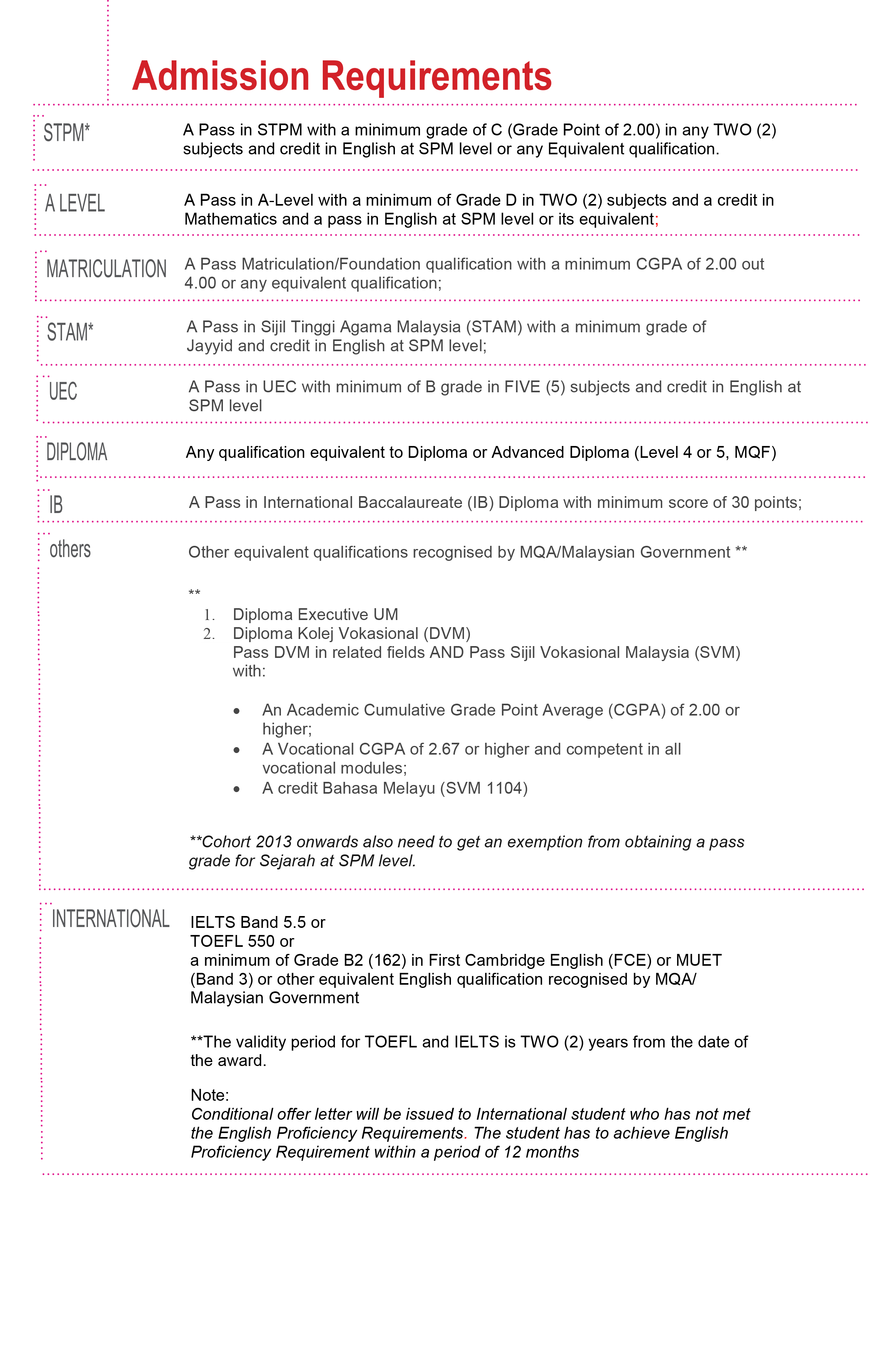 MAJOR CORE COURSES
TESOL
Language and Teaching Methodology
Teaching Writing Skills
Teaching Listening and Speaking Skills
Teaching Reading Skills
Language Testing and Evaluation
Language Teaching Technology
Psychology of Education
Philosophy, History, and Policy in Education
Internship
LITERATURE
Introduction to Literary Theory
English Literature 1
Malaysian Literature in English
Greek Mythology
English Literature 2
Advanced Academic Writing
Asian Literature in English
Creative Writing 2
Project Paper
MPU COURSES
Tamadun Islam dan Tamadun Asia (TITAS)
Hubungan Etnik
Thinking Skills OR
Bahasa Kebangsaan A
Introduction to the Malaysian Constitution
Professional Event Management OR
Community Engagement and Volunteering
Malaysian Studies (For international students)
Bahasa Melayu Komunikasi II (For international students)
UNIVERSITY COURSES
Professional Communication Skills
English for Academic Purposes
Volunteerism and Service Learning
Entrepreneurship and Innovation
PROGRAM CORE COURSES
English Proficiency 1
English Proficiency 2
English Proficiency 3
Introduction to Language and Linguistics
Introduction to Literature in English 1
Academic and Expository Writing
Creative Writing 1
English Syntax and Morphology (A)
Introduction to Literature in English 2
Academic and Professional Discourse
Language and the Media
English Phonetics and Phonology
Language and Ideology
Literacy and Second Language Acquisition Issues
English Syntax and Morphology (B)
Language and Power
Cultural Diversity and English
*Subject to change