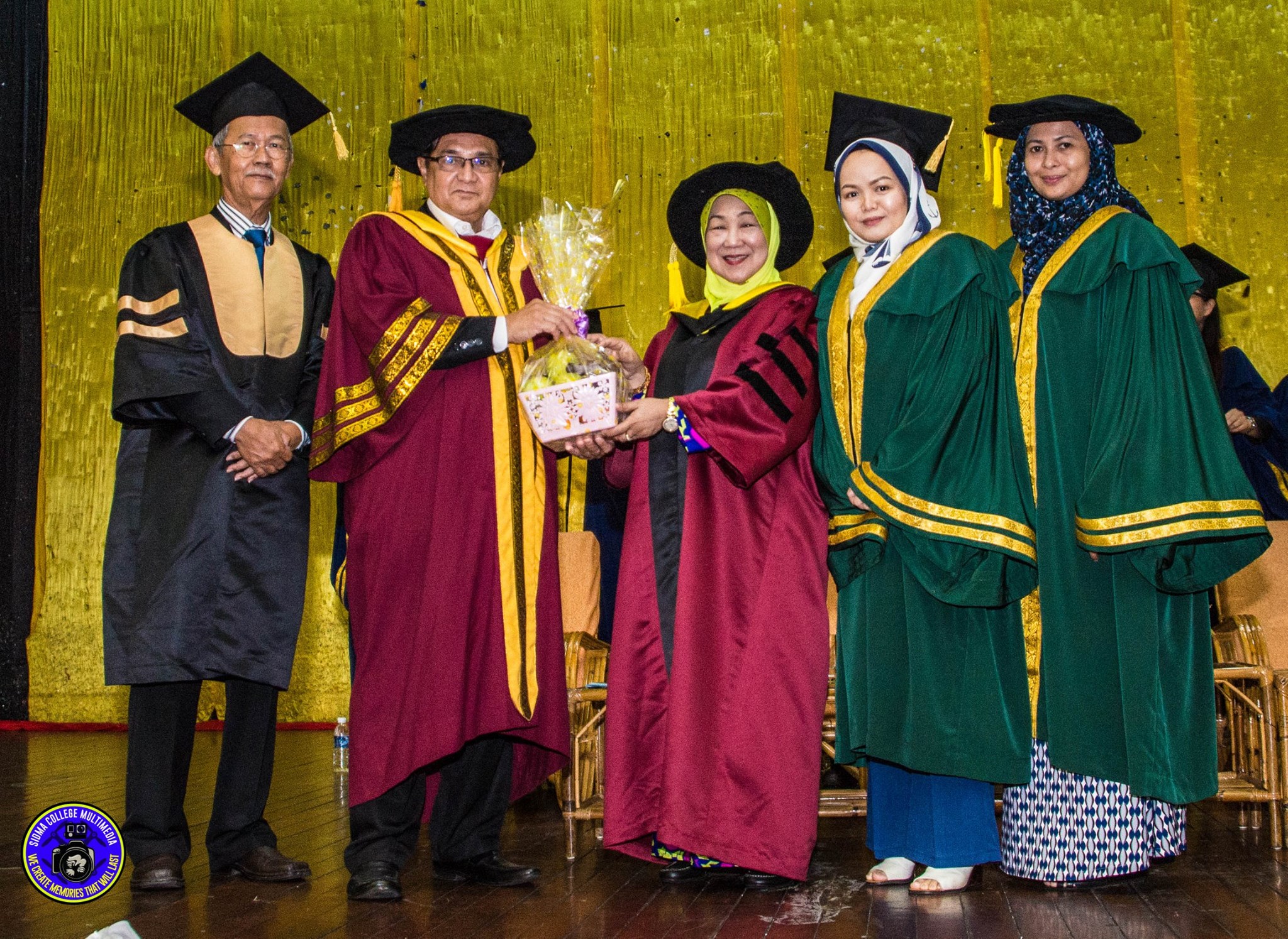 SIDMA College, UNITAR International University Sabah, through its Student Affairs and Development (STAD) held an Oath-taking Ceremony for all its new students joining the college. The ceremonial event held on 11 October 2017 at the Kadazandusun Cultural Association Unity Hall (Hongkod Koisaan), Penampang was to enable the more than 600 new students joining SIDMA College UNITAR Sabah during Semester June and October 2017 to formally promise and pledge the oath script to commit themselves to the ethical practices, be active and responsible students, and to abide to all the rules and regulations of the college and the university, as well as to instil a culture of excellence among these students.
During the ceremony, new students Aizat bin Jaumin and Siti Nasihah binti Jasni headed the Oath-taking ceremony and accompanied by all the new students. Their pledge was read before Honourable Dr Hajah Ananglangka Binti Mad Kassim (Guest of Honour), Dr Morni Hj Kambrie (Founder and Chairman SIDMA College), Madam Azlina Ngatimin (Director, Corporate Relations and Business Development), Madam Azizah Khalid Merican (CEO), Heads of Departments, Lecturers and staff of SIDMA College and UNITAR Sabah Regional Centre.
Dr Hajah Ananglangka, an educationist by profession before her retirement from the Ministry of Education; holds a Bachelor Degree in Education (Guidance and Counselling) from Universiti Putra Malaysia, Master of Psychology Counselling and also PhD in Psychology from Universiti Malaysia Sabah. During her officiating address, she congratulated the new students on their successful admission into SIDMA College UNITAR Sabah; and reminded them that they should be grateful that they are here today. Some of their unfortunate school and class mates are still in the kampong and have yet to further their studies to fulfil their dream goal.
She reminded the students to uphold their principles and philosophies that they too can learn and achieve success in future via SIDMA College UNITAR Sabah. She also shared that students should value their learning at the College and should start to excel since the first semester. A student can get a pass in subjects but only with consistent effort given that will produce the best result and ultimately achieving their ultimate goals.
Earlier, Dr Morni in his welcoming address thanked Dr Hajah Ananglangka for her continuous passion and efforts with youth, and willing to be in this SIDMA special event despite her busy schedule and was even in Sandakan the day before.
He congratulated the students for choosing SIDMA College UNITAR Sabah to further their tertiary education. "We are very excited and proud of you joining the college, and we, the staff of the college will do our very best to assist throughout your study in the college. I want you to know that the entire college staff is here to support, facilitate, and encourage each and every one of you as you commit yourself to study with us" he added.
During the same ceremony, nine student receive their Certificate of Academic Excellence due to their result where all of them get CGPA of more than 3.75 and above. The list of students that receive the said award are:
Malisa binti Goudi
Marlaleez Lisamary Marten
Nor Fazira Naz Rayu binti Ruhilin
Maybelline Megan Yau Chui Wen
Adlind Anak Alu
Nena binti Muijan
Nur Shasyera binti Kumar
Sheira Peru
Finolla Lausok
SIDMA College, since its establishment in Kota Kinabalu in 2002 has been working very closely with UNITAR International University Main Campus, Kelana Jaya, Selangor, a university with its strong and significant network of academic collaborations with both the academic and corporate as well as industrial partners around the region to offer affordable and demanded study programmes which are professionally aligned with the requirement of these major industrial players both nationally as well as internationally. The college prosper jubilantly over the years, and rapidly emerged as the first and largest regional centre in Malaysia running UNITAR programmes, in addition to its home grown academic programmes.
Currently SIDMA College, in its vibrant and dynamic environment and being equipped with the latest technical infrastructure, strives to give the best conducive atmosphere for the students by adopting and focusing on blended teaching and learning; a hybrid teaching and learning model that combines both the conventional face-to-face lectures with tutors and lecturers in the classrooms and the internet-based support system which provide continuous interactions among students, tutors and lecturers nationwide; as well as ensuring these students being immersed in conducive environments to understand, reflect and implement theories learned in the classroom into the real world working experience during their interns (practicum), thus producing marketable and  relevant workforce much needed for the 21st century.
Being in its 15th year of success, SIDMA College UNITAR Sabah has produced marketable and promising graduates who are currently holding respectable posts / careers in various fields, both in the public and private sectors throughout the country.
Dr Morni also reminded the students to manage and put to good use on all facilities provided to them during their study here, including financial assistance such as PTPTN loan. He reminded students that if they failed to manage their personal resources such as time and financial status properly, it can affect their concentration, thus will have a negative impact on their studies and this means compromising their commitment to excellence in their studies. During their study here, Dr Morni also encouraged these students to contribute their time and talent by being active in community services, organisations and clubs, athletics as well as other important activities.
The Chairman also reassured the students that their welfare and future are in good hands, and encouraged the students to do their part by showing full commitment, discipline in their studies in order to be able to materialize their dream future. He also stressed that the staff at the college is ever willing to assist them in their studies, and students experiencing problems particularly in their studies should approach the Academic Counsellor or their lecturers for assistance and guidance.  
List of Academic Programmes offered at SIDMA College UNITAR Sabah for 2017/2018:​
Foundation Programme:

Foundation in Management.

Diploma Courses:

Diploma in Early Childhood Studies
Diploma in Occupational Safety and health
Diploma in Management.

Bachelor's Degree Courses:

Bachelor of Education (Hons)
Bachelor of Education (Early Childhood Education (Hons)
Bachelor of Business Administration (Hons)

Bachelor of Management (Hons)

Bachelor of Hospitality Management

Master's Courses: 

Masters of Business Administration (MBA)
Masters of Education (Education Leadership and Management ELM)
Masters of Education (TESL)
Masters of Education (Early Childhood Education)
For more information about courses offered at SIDMA College UNITAR Sabah, you may browse SIDMA College Website, or like our Facebook Account: SIDMA College. Potential candidates can visit us at SIDMA College UNITAR Sabah, Jalan Bundusan, 88300 Kota Kinabalu, or call the hotline number: 088-732 000 or 088-732 020.
Online registration is available. Please CLICK HERE.
By Teo Eng Seng and Zain Azrai Bin Mohd Noor,
SIDMA College UNITAR Sabah,
KOTA KINABALU.