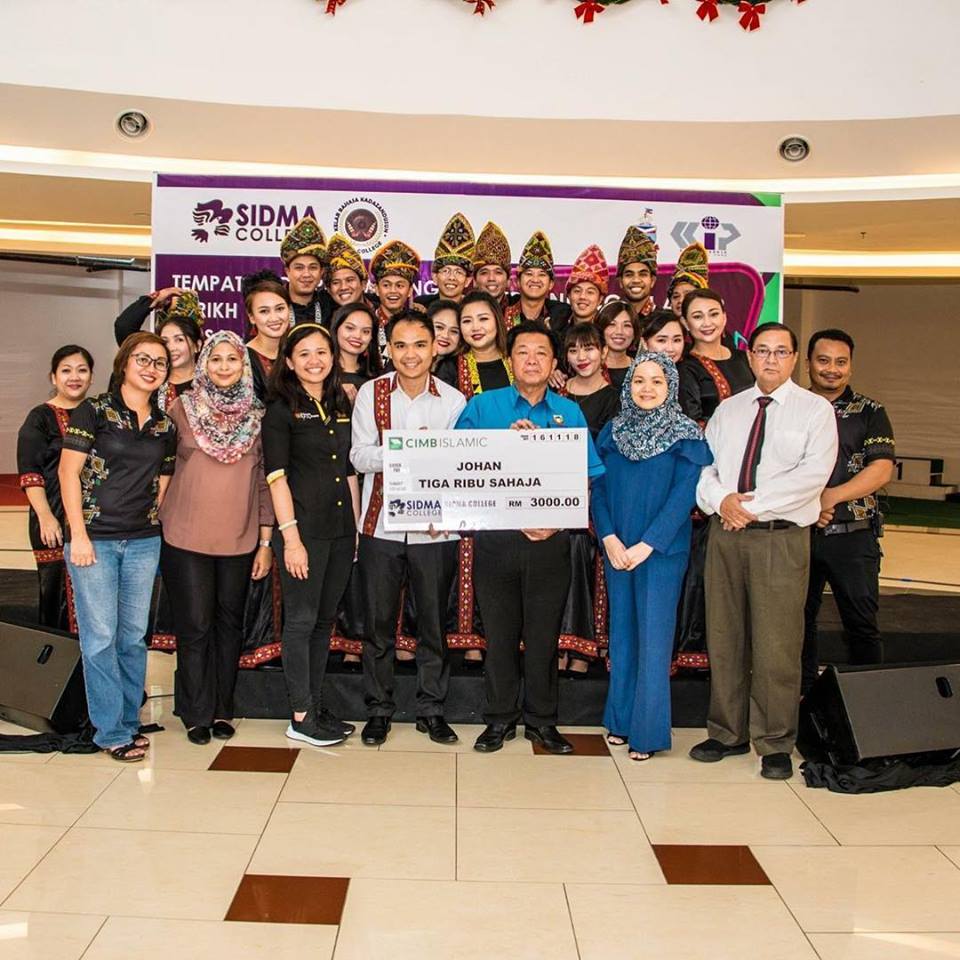 Dewan Bandaraya Kota Kinabalu (DBKK) Choir Team, headed by Mayor, Datuk Yeo Boon Hai, won the first ever SIDMA College KadazanDusun Language Choir Competition held at ITCC, Penampang on 16 November 2018.
During the grand event, DBKK Choir team singing "Rumandawi" song managed to grab the special attention of three independent judges of the competition, namely Mr Joachim Gabin, Mr Asmin Mudin and Mr Rudy Banabas; as well as receiving loud applaud from the audience. The group managed to defeat seven other groups from across Sabah to win the Championship title and received a cash prize of RM3,000 from Dr Morni Hj Kambrie, Chairman and Founder of SIDMA College cum the main organiser of the event.
The first runner-up went to The OV Singers (Penampang) and they received cash prize of RM1,000; whereas Sindak Sunduvan Group (from SMK Datuk Peter Mojuntin) secured the second runner-up place with a cash prize of RM500. Five other participating teams from across the state are (a) Simpangan (Kota Marudu); (b) Koir Momento (Tenom); (c) iGen-Ve (Penampang); (d) Sunduan Gunsanad (Keningau); Koir Bahang (Penampang) have also participated in the competition.
Dr Morni who was given the honour to officiate the event congratulated all the participating teams for their genuine desire to support the various initiatives undertaken by various parties both from the government and as well as from the private sector to preserve and ensure the survival of the KadazanDusun language in this modern era. This can be seen from the fact that some the participating teams are from all over Sabah namely Tenom, Keningau and Kota Marudu.
Dr Morni was indeed very honoured to learn that he is not alone in his continuous efforts to preserve and ensure the relevancy of the KadazanDusun language. Since the formation of the SIDMA College's KadazanDusun Language club on 19 September 2016, he was glad to note that the club have received numerous supports, particularly from Sabah Education Department, from statesman, particularly Datuk Seri Panglima Wilfred Madius Tangau and his team-members from UPKO, as well as individuals from the general public in implementing various initiatives, that would provide opportunities for the KadazanDusun native speakers to use the language.
On this particular event, Dr Morni specially mentioned Madam Isabella Malakun, General Manager at Sabanilam Enterprise Sdn Bhd, for her generosity in allowing the ITCC Centre Stage to be the venue for the event without any charge. Dr Morni also congratulate Madam Salumah Nain (Chairperson, SIDMA KadazanDusun Language Club) and all the club members as well as all SIDMA College Sabah staff for being tirelessly joining the efforts to uphold and dignify the survival of the KadazanDusun in this modern era.
Dr Morni also announced that the winner of the 2018 KadazanDusun Language Choir Competition will be invited to present a song of their choice during the club's Charity Dinner "Sodop Pisompuruan 2018" on 30 November 2018 at Shangri-La's Tanjung Aru Resort and Spa, Kota Kinabalu.
Meanwhile, Madam Salumah Nain announced that tickets for the "Sodop Pisompuruan 2018" Charity Dinner is being sold at RM120 each. For more information on the above, please contact SIDMA KadazanDusun Language Club at SIDMA College, Jalan Bundusan, 88300 Kota Kinabalu; Hotline: 088-732 000 or 088-732 020. For precise details, please channel your enquiries to the following officers:
Mr Bonaventure Wences
Mr Delson J Joingin
Ms Sylla Severinus
Mrs Brenda
Ms Era
Ms Erlvina
By Teo Eng Seng and Zain Azrai,
SIDMA College Sabah,
88300 KOTA KINABALU