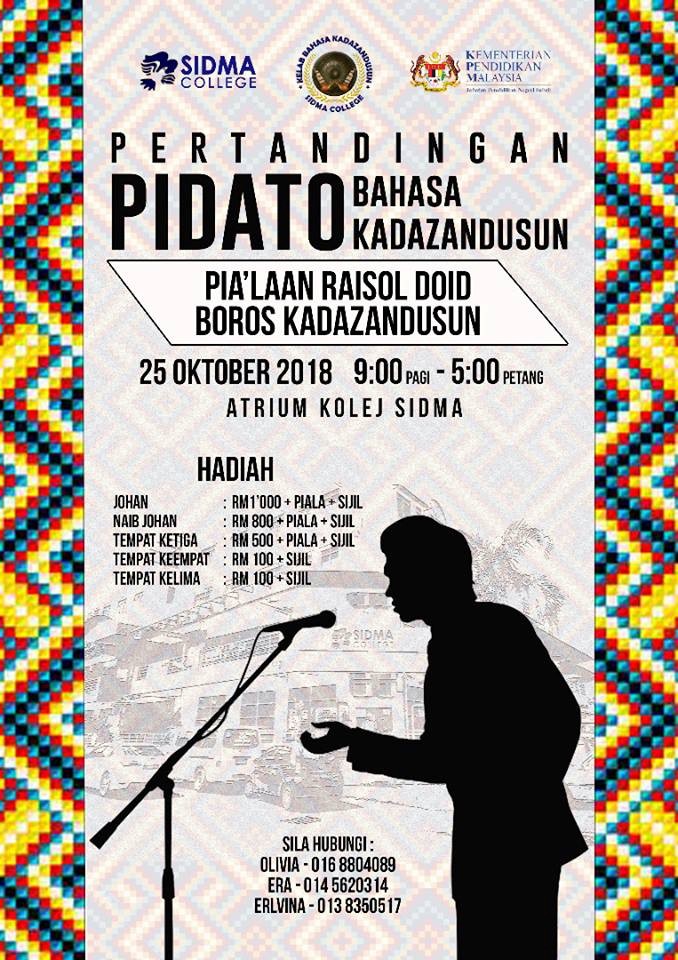 Dr Morni Hj Kambrie (Founder and Chairman of SIDMA College) in his continuous effort to preserve and ensure the survival of the Kadazandusun language in this modern era, has collaborated with Sabah Education Director, Datuk Hajah Maimunah Hj Suhaibul, District Education Officers, secondary school Principals and Kadazandusun teachers in secondary schools to co-organise Kadazandusun Language Speech Contest "Pialaan Raisol Doid Boros Kadazandusun" for secondary school students to speak the language in a competition setting. The contest is simultaneous held in all participating secondary schools during the month of October 2018. The theme of the contest is "Boros Popoburu Koposion" (Language Catalyses a Nation's Future), and the closing date for the Secretariat (SIDMA College Kadazandusun Language Club) to receive names of contestant from the respective District Education Department is by 15 October 2018.
Since the beginning of October 2018, Dr Morni has allow his college resources to be used for sending staff to visit various secondary schools offering Kadazandusun language as elective language to collaborate, assist and motivate the staff and students to participate in the contest at the respective school level. The event is open to all Form One to Five secondary school students offering Kadazandusun as elective language. Each of the participating schools will then forward two (2) names of winners to their respective District Education Department.
Each respective District Education Department will then formed a selection committee to identify and conduct their respective district level contest. Currently five (5) districts that have conducted their district level competition are Penampang District (21 September 2018); Tambunan District (28 September 2018); Keningau District (08 October 2018; Ranau District (10 October 2018) and the next round will be at the Kota Belud District (12 October 2018); Dr Morni despite his busy schedule managed to find time and present himself during each of the respective district level competition to witness the selection of their representatives. The selection committee from each of the district will then forward the names of successful candidates to compete during the semi-final competition to be held at SIDMA College Sabah on 25 October 2018.
Meanwhile, Kadazandusun Language Choir Competition is open for registration. This event is open to all choir groups of Sabah. The required number of participants per group are between 15 to 25 persons, including the conductor and musicians; singing only local Kadazandusun songs. Entrance fee is RM150.00 per group (not refundable) and the closing date is on 09 November 2018, or upon the registration of the first groups of contestants.
A grand semi-final contest for the Choir Competition will be held on 15 & 16 November 2018 at ITCC Penampang Shopping Mall.
The Grand Finale for the above two events, "Sodop Pisompuruan 2018" will be held on 30 November 2018 at Shangri-La Tanjung Aru Resort and Spa, Kota Kinabalu. Successful teams and individuals selected to perform during the round of competition will be informed by the secretariat. Attractive cash prizes of RM 3,000 (Champion), RM 1,000 (1st Runner-up) and RM500 (2nd Runner-up) will be up for grab.
Dr Morni on behalf of SIDMA College Top Management congratulated and thanked in advance to Sabah Director of Education, Y. Bhg Datuk Hajah Maimunah Hj Suhaibul; respective District Education Officers, respective Secondary Principals, Bahasa Kadazandusun teachers and to each and every individual who have contributed and assisted to ensure the successful implementation of the above mentioned programmes.
For more information on the above contest, please contact SIDMA Kadazandusun Language Club, SIDMA College Sabah, Jalan Bundusan, 88300 KOTA KINABALU; at Tel: 088-732 000 or 088-732 020 or Fax @ 088-732 019. For further details on the above competitions, please channel it to the following officers:
  Mr Bonaventure Wences : 088-732 186
  Mr Delson J Joingin : 088-732 000; 088-732-020
  Ms Sylla Severinus : 088-732 000; 088-732 0202
  Ms Brenda : 016-824 5117
  Ms Era : 014-562 0314
  Ms Erlvina : 013-825 0517
By Teo Eng Seng and Zain Azrai,
SIDMA College Sabah,
88300 KOTA KINABALU.